Press release
Damian Green: Reforming the role of magistrates
More than 4,000 defendants each year are sent to the Crown Court for sentencing when they could be dealt with in the magistrates' court, costing valuable money and time Justice Minister Damian Green said today.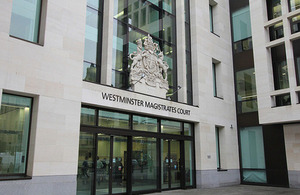 In a wide-ranging speech he set out the extremely valuable role that magistrates play in delivering justice locally and announced that that the Government will be working with magistrates to maximise their responsibilities and modernise their role.
Reforming the role of magistrates
Justice Minister Damian Green said:
"Magistrates are truly the cornerstone of our justice system; not only that, they are a model of what a good citizen should be. They volunteer to give their skills, expertise and time for the good of others, for nothing. We are lucky to have them, and we should be proud of them."
"However, four out of ten defendants sent to the crown court for sentencing received custodial sentences that could have been handed in the magistrates' court - we need to look at why this is happening and if we need to do more to make the best use of magistrates. We need to keep the right cases in the right court if we are to have a modern justice system in a fair society."
During the course of the event, he posed three questions to magistrates:
How do we ensure magistrates deal with the right cases in court?
How does the magistracy play a stronger role in the community?
How can magistrates help reform the criminal justice system in their local areas?
This work forms part of the wider reforms to the criminal justice system and would look at:
Ensuring maximum use is made of the skills and capabilities of magistrates so they are routinely dealing with serious and complex cases, within their powers, rather than committing them to the Crown Court for sentencing.
Unclogging magistrates' courts, for example, by dealing with the 500,000 or so simple road traffic offences out of the traditional process, freeing-up time for magistrates in courtrooms to deal with more serious offences.
Tackling stubbornly high reoffending rates with proposed new powers for magistrates to impose a 'short sharp' two week return to custody for any offender who breaches their new supervision period, following a sentence of less than 12 months in prison. This was introduced in the Offender Rehabilitation Bill, currently before Parliament.
Exploring new roles for magistrates in cutting crime locally, for example by scrutinising the police's use of out of court disposals (such as cautions), and engaging with the local community through initiatives such as 'Magistrates in the Community' and 'National Mock Trial Competition'.
Last year around 9,800 defendants were convicted by magistrates and then were committed to the Crown Court for custodial sentences despite the fact that magistrates have the skills, capability and powers to deal with most of these cases. Out of this number, 40 per cent received up to six months imprisonment, meaning that these are offenders who could have been sentenced in the magistrates courts, which are closer to the affected communities, and where the cost of a typical sitting day is significantly cheaper – on average this is £1,400 per day in the magistrates' court compared to £2,150 per day in the Crown Court. Similarly around 3,200 defendants under 18 years old were also committed to the Crown Court for trial in 2012, but the Youth Court is set up specifically to deal with children involved in criminal proceedings, whether as a witness, defendant or both. The Youth Court has the power to impose a Detention and Training Order (served half in custody, half in the community), up to a maximum of 24 months.
Following today's speech on 'The Role of Magistrates', there will be three further events with magistrates from across the country in Birmingham, Leeds and Cardiff. These events will inform a formal consultation which will be launched later in the year.
Note to editors
Key facts about Magistrates
There are 23,500 magistrates in England and Wales, who sit across adult, youth and family courts.
Over half serving magistrates are over the age of 60, although the starting age is 18 years.
Magistrates' courts deal with around 19 out of every 20 defendants in criminal cases annually.
A defendant in a Youth Court can be sentenced to a Detention and Training Order (served half in custody, half in the community) with a maximum length of 24 months (12 months custody, 12 months supervision). Children appear in the Crown Court under the following circumstances: when charged with homicide; when subject to a statutory minimum sentence; when charged with a grave crime for which a sentence beyond the powers of the Youth Court would be available (i.e. more than 24 months); when charged together with an adult offender; or if a sentence under the dangerous offender provisions is likely to be needed.
The role of the magistrate came about in 1361, when the Justices of Peace Act introduced the concept of members of the community being given powers to administer justice.
Magistrates are required to undertake specific training before taking on their role, and continue to receive training throughout their service. Once a magistrate is sworn in, they undertake 3 days of core training before sitting. They receive regular training thereafter to maintain competence throughout their service, and are also appraised every 3 years.
Magistrates have the power to sentence criminals to up to six months in prison and issue fines of up to £5,000.
The average cost per sitting day estimates are based on HMCTS Finance data for direct court and judicial near cash costs. They refer to 2010/11 figures and are up-rated to 2013/14 prices.
In 2012, 1.48 million defendants were proceeded against in the magistrates' courts and around 88,000 defendants were tried in the crown court.
Recent guidance from the Senior Presiding Judge encouraged magistrates to play a wider role in scrutinising out of court disposals.
Copy of speech available on request.
For further information contact the Ministry of Justice Press Office on 020 3334 3536.
Follow us on Twitter @MoJPress
Published 14 August 2013
Last updated 14 August 2013
+ show all updates
Addition of a policy
First published.