Press release
Damian Green: new rehabilitation powers for magistrates
Magistrates will be given new powers as part of the Government's reforms of rehabilitation.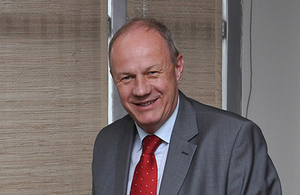 Offenders serving short custodial sentences will now be subject to supervision in the community and if they do not comply with the supervision requirements magistrates will have new powers to deal with them, including sending offenders back to custody for up to a fortnight. This will mean magistrates will play a crucial role in the rehabilitation of offenders Justice Minister Damian Green said today. This is just one of the ways the role of magistrates is being maximised to reflect modern society and to tackle stubbornly high levels of reoffending.
Provisions in the Offender Rehabilitation Act 2014 mean that for the first time offenders who go to jail for less than twelve months will be supervised in the community for one year after they leave prison. After a period on licence they will have a further period of rehabilitative support in the community. Offenders who breach the conditions of that supervision, for example by failing to attend a drug or alcohol rehabilitation programmes or not turning up to training, can be brought before a magistrate and face returning to prison for up to two weeks. They can also face fines, curfews with electronic tags or being required to do work in the community.
In a speech at the Policy Exchange, the Justice Minister set out some key proposals which include:
Encouraging magistrates to spend more of their time working on community projects such as engaging with schools and to youth groups on the role of the magistracy. Not only would this help strengthen the link between local communities and the magistracy, it would also ensure that the public understands the way the justice system works. This would build on good work already under-way.

Magistrates playing a greater role in rehabilitation, for example by supporting the resettlement of young offenders, and rehabilitation of adult offenders.

Changing the recruitment process including proposals for more flexible working patterns and a ten-year tenure supported by a clear career structure. This would give more people the opportunity to volunteer and might encourage more applicants with work, study or childcare commitments.

Giving local courts the information and tools they need to identify and share good practice and develop new and innovative court practices to improve performance.
Justice Minister Damian Green said:
Since 1285, magistrates have played an important role in administrating local justice. They are the cornerstone of the Criminal Justice System, and bring with them a wealth of knowledge and experience from outside the legal system.

Thankfully crime is falling, but we must make sure that the role of magistrates continues to reflect modern society and we use their expertise to address stubbornly high reoffending rates. This new power will mean magistrates can help us respond quickly to offenders who breach their supervision conditions and help keep them on the straight and narrow.
Last year, the Justice Minister launched a consultation, speaking directly to hundreds of magistrates around the country, to identify key priority areas for change. The following proposals have already been put into motion:
A new single magistrate procedure so they can work on their own, rather than in a bench of three when dealing with low level regulatory cases. At present a great deal of magistrates' and court time is currently spent going through the motions of hearing cases where the defendant has either not responded or has entered a guilty plea by post. This is disproportionate and quite simply wasteful. New provisions in the Criminal Justice and Courts Bill will remove low level 'regulatory' cases, like TV licence evasion or driving without insurance out of a traditional court room, freeing up magistrates 'time to deal with more serious offences which have the biggest impact on local communities.

Tackling high reoffending rates with new powers for magistrates to be allowed to commit an offender to custody for up to 14 days, if they fail to comply to supervision conditions these powers were introduced in the Offender Rehabilitation Act 2014.

The MoJ has looked into reasons why, in recent years, four out of ten defendants committed for sentencing in the Crown Court received custodial sentences that they could have received in a magistrates' court. The Magistrates Association are currently researching this issue, which will help feed into policy reform.
Magistrates' courts deal with 19 out of 20 defendants in criminal cases and continue to play an important role in the criminal justice system. These reforms play into the re-launch of the Criminal Justice Strategy and Action Plan in the summer.
Notes to editors
As of 1st April 2013 there were around 23,500 magistrates in England and Wales.

Over 50% of serving magistrates were over the age of 60 on this date, although the youngest eligible age to become a magistrate is 18 years.

In 2012 magistrates dealt with 94% of defendants in criminal cases and committed the remaining 6% of defendants for trial in the Crown Court.

During 2012, 1.48 million defendants were proceeded against in the magistrates' courts and around 88,000 defendants were tried in the Crown Court.

Magistrates can sit on Family, Youth and Adult courts

Magistrates have the power to sentence criminals to up to six months in prison and issue fines of up to £5,000.

A defendant in a Youth Court can be sentenced to a Detention and Training Order for up to two years.

The role of the magistrate came about in 1285 when the Justices of Peace Act introduced the concept of members of the community being given powers to administer justice.

Magistrates are required to undertake specific training before taking on their role, and continue to receive training throughout their service. Once a magistrate is sworn in, they undertake 3 days of core training before sitting. They receive regular training thereafter to maintain competence throughout their service, and are also appraised every 3 years.

For further information please contact MoJ Newsdesk on 0203 334 3536
Published 25 March 2014