News story
Dame Philippa Russell re-appointed as Chair of the Standing Commission on Carers
Dame Philippa Russell has been re-appointed as Chair of the Standing Commission on Carers.  This is her second term after serving 3 years and…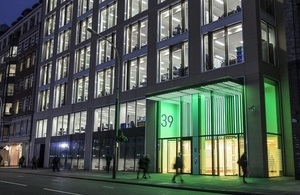 Dame Philippa Russell has been re-appointed as Chair of the Standing Commission on Carers.  This is her second term after serving 3 years and the appointment is with effect from 20 May 2012.
The Standing Commission on Carers is an independent advisory body responsible for providing expert advice to Ministers and the Carers' Strategy Cross-Government Board on progress in delivering the National Carers' Strategy.
Paul Burstow, Minister of State for Care Services said:
"I congratulate Dame Philippa on her re-appointment as Chair of the Standing Commission on Carers. I would like to thank her for her invaluable contribution and commitment to the carers' agenda over many years, and have welcomed her advice to ministers across government.  She has played a key role in the development of the Coalition Government's Carers Strategy and its strategic vision, which the Standing Commission is helping to take forward.  I look forward to working with Dame Philippa over the next two years."
Dame Philippa, Chair of the Standing Commission on Carers said:
"I have been very privileged to have served as Chair of the Standing Commission throughout its early years and I am delighted to have been reappointed for a further term. I strongly believe that the Standing Commission has an important role to play in achieving our long-term ambition of raising the profile of carers and valuing and celebrating their unique contribution to family, community and society.
"The next decade will see significant challenges in terms of both demography and the economy and of course with regard to carers' own lives and expectations.  I hope that the Standing Commission can continue to provide an authoritative and independent policy forum, working with partners in order to achieve both the outcomes set out in the Carers Strategy work and a care and support system fit for the 21st century. The challenges may be great but I welcome the opportunities."
Dame Philippa's appointment is for 2 years and for a time commitment of at least 1 day per week on Commission business and for attending at least 4 formal meetings a year and in addition for participating in fact-finding visits and thematic days, which may entail up to at least 4 extra meetings per year. She will be remunerated at a rate of £15,000 per annum plus £400 per formal meeting.
Published 18 July 2012