Dame Helen Ghosh to leave civil service
Dame Helen Ghosh DCB is to step down as Permanent Secretary of the Home Office to take up the role of Director General of the National Trust, she announced today.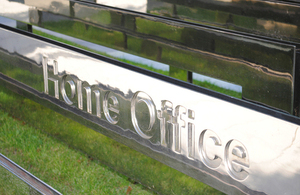 Dame Helen will leave the department in September after a 33 year career in the civil service.
Helen Ghosh said: 'I have been privileged to lead the Home Office and feel very torn about leaving.  But the work of the National Trust is something that is very close to my heart and this was a rare opportunity to lead a major voluntary organisation which I could not allow to pass by. 
'The work of the Home Office is of fundamental importance to the very fabric of our society and I know better than anyone the dedication and hard work staff put in to make Britain safe and secure.  Delivering a safe and secure Olympic Games is the most recent example, but there are many more.
'I will be doing my utmost over the next few weeks to ensure that the Home Secretary and her ministers have all the support they need in this period and that I leave the department in the best possible shape for the future.'
Wealth of knowledge and experience
Home Secretary Theresa May said: 'I am very grateful to Helen for her support, wise counsel and outstanding leadership of the Home Office during an extremely busy period for the department.
'She has made a great contribution to the civil service throughout her long and distinguished career and I am sure she will continue to play a significant role in public life in her new role as Director General of the National Trust. This is an important role to which Helen will be able to bring a wealth of knowledge and experience and they are very lucky to have secured her services. I wish her every success for the future.'
Extraordinary change
Head of the Civil Service Sir Bob Kerslake said: 'As Permanent Secretary at Defra and the Home Office, Helen has delivered extraordinary change including departmental reform, the independent UK Border Force and support for the successful London Olympics. 
'She has been an inspiring leader, who has made a very strong corporate contribution, both via the Civil Service Board, leading the capability strand of our Civil Service Reform Programme and as a vibrant role model and champion of talent and diversity. I wish her every success in her new leadership role at the National Trust.'
Helen Kilpatrick, Director General of the Financial and Commercial Group, will stand in as interim Permanent Secretary until a replacement for Helen Ghosh is appointed.
Published 13 August 2012