Dame Helen Ghosh to become Home Office Permanent Secretary
The appointment of the first female Home Office Permanent Secretary has been announced.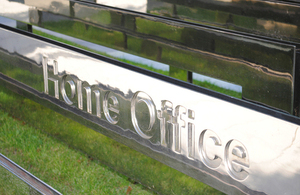 Dame Helen Ghosh will leave her post as Permanent Secretary at the Department for Environment, Food and Rural Affairs (DEFRA) to take up the role when Sir David Normington retires at the end of the year.
She becomes the Home Office's first female Permanent Secretary in its 228 year history.
Home Secretary Theresa May said: 'I am delighted that Dame Helen Ghosh will be joining the Home Office as Permanent Secretary. She has a huge amount of experience in numerous departments across Whitehall and will, I am sure, make an invaluable contribution to the department as we deliver the vital reforms that are underway. I am very much looking forward to working with her.'
Extensive experience
Dame Helen has been Permanent Secretary at DEFRA since 2005 and before that had extensive policy and management experience in the Department for Work and Pensions, Revenue and Customs and the Cabinet Office.
She said: 'I am very much looking forward to supporting the Home Secretary as she takes forward her radical policy programme, and to building on David Normington and his team's terrific work over the past few years to ensure that the Home Office has the capability to deliver.'
'I would also like to thank Sir David Normington for the years of hard work, dedication and leadership he has given to the Home Office and I wish him well for the future.'
Outstanding record
The Cabinet Secretary Sir Gus O'Donnell said, "I am delighted that Helen has been appointed as the new Permanent Secretary at the Home Office.  She has an outstanding record of organisational leadership as Permanent Secretary at DEFRA, and from previous senior leadership roles at HM Revenue and Customs and Cabinet Office.  Her appointment will ensure the Home Office is very capably led through the significant changes ahead."
"I would also like to thank David Normington for his excellent leadership of the Home Office over recent years and for his outstanding record of public service during a highly distinguished career."
Published 6 December 2010