Press release
Dame Clara Furse appointed as the department's lead non-executive
The Department for Work and Pensions has appointed a new lead non-executive member of the Departmental Board.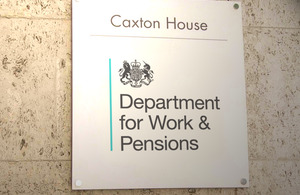 Dame Clara Furse takes over from Sir Ian Cheshire as he steps down this month.
Secretary of State of the Department for Work and Pensions, Iain Duncan Smith, said:
I want to thank Sir Ian for his support over the past 4 years, during a period of significant reform and change. His hard work has helped to improve the department's standards of service, while at the same time securing value for money.

I look forward to working with Dame Clara as we continue this progress. With her excellent track record in the world of finance, I have no doubt she will continue to build on Sir Ian's work.
Sir Ian Cheshire said:
I have been constantly impressed by the department, both in helping people back into work to support the economic recovery, and in introducing a significant programme of welfare reform. I wish the board and the staff of DWP every future success as they continue this work.
Dame Clara Furse said:
Having spent the past 3 years chairing the department's Audit Committee, I am looking forward to supporting its important work more broadly as Universal Credit is delivered nationwide in 2015.
Sir Ian has held the position of lead non-executive since the board was first created by the government in 2011.
Dame Clara made history when she became the first woman to be appointed chief executive of the London Stock Exchange, a post she held for more than 8 years.
She currently sits on the Bank of England's Financial Policy Committee and a number of corporate boards.
It was also announced today that board member David Lister is to be reappointed for a further 3-year period and Willy Roe will be reappointed for a period of 7 months.
As Vice-Chair of the department's Audit and Risk Assurance Committee, Lieutenant General Andrew Graham will chair the committee while the process to establish its new chairman takes place.
About the Departmental Board
The role of the board is to advise the department on performance, including agreeing key performance indicators. It also oversees operational issues, such as the operational and delivery implications of policy proposals, and the effective management of the department.
It exercises its role through influence and advice, and both supports and challenges the executive.
Members also scrutinise the progress and implementation of the business plan, and are involved in recruiting, appraising and ensuring appropriate succession planning of senior executives.
The board meets regularly with other non-executives across government to ensure departments learn from the successes and failures of comparable organisations.
All board members, including the lead, are appointed for a 3-year period. They can be reappointed once for a further period of 3 years.
Published 3 December 2014