Dambusters prepare for Afghanistan deployment
The week consists of a series of bespoke exercises which form the pre-deployment training for 617 Sqn before they deploy to Kandahar to replace…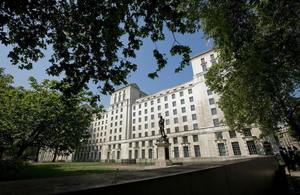 The week consists of a series of bespoke exercises which form the pre-deployment training for 617 Sqn before they deploy to Kandahar to replace fellow RAF Lossiemouth unit 12 (Bomber) Squadron next month.
It will be the Dambusters' second deployment to Afghanistan and they returned from their first tour last July. But, even though around 70 of the 100 personnel in the unit are veterans, everyone needs reminding of the dangers they may face, which is where the training comes in.
The war week is planned and facilitated by the Joint Force Air Component (JFAC) from Air Command and involves 617 Sqn's aircrew and engineers being trained and tested in a series of realistic scenarios, including indirect fire attacks, first aid emergencies and engineering accidents amongst many others.
Although the training is targeted at 617 Sqn personnel, a number of other external agencies were also involved - such as communications specialists 591 Signals Unit, legal advisers, Trauma Risk Management personnel, and a Tactical Air Control Party - to replicate and reflect the collaborative nature of the operational environment.
Officer Commanding 617 Sqn, Wing Commander Keith Taylor, said:
War week is a fantastic training opportunity for us; the range of events planned by the JFAC team here are excellent. We deploy next month; we are up for it, we are trained for it, and we are very much looking forward to it.
In addition to the challenge of maintaining the regular flying programme during the week, RAF Lossiemouth also hosted two visits.
Air Officer Commanding Number 1 Group, Air Vice-Marshal Stuart Atha, met with 617 Sqn engineers and aircrew, and spoke with JFAC training personnel about the implementation of the war week programme. He said:
This is the best and most realistic training that we can give our personnel as they prepare to deploy. It is about aircrew and ground crew working together as a team to protect themselves against ever-present threats in theatre.
The reason why this training is so good is that it specifically reflects the realities - especially the potential threats - of the operational environment they are about to deploy into.
On the same day, two MPs from the Armed Forces Parliamentary Scheme - a system designed to develop politicians' understanding of UK military capability - visited to watch the training take place.
Both Adam Holloway and Robert Flello got involved in the training and assisted with the first aid response to a road traffic accident scenario.
Mr Flello, who is the Shadow Minister for Justice, said:
All of this training is phenomenally important. It's certainly helped emphasise the realities of the operational environment. I have great admiration for everyone involved.
Published 22 February 2012