World news story
D-Day anniversary: We remember 69 years later
6 June 1944, the day known as D-Day where Allied troops took Western Europe back from Nazi tyranny.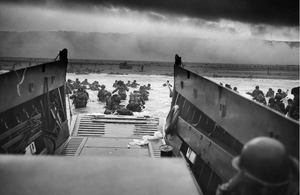 US General Dwight D. Eisenhower, on the eve of giving the D-Day order on June 6, 1944:
You are about to embark upon the Great Crusade, toward which we have striven these many months. The eyes of the world are upon you. The hopes and prayers of liberty-loving people everywhere march with you. In company with our brave Allies and brothers-in-arms on other fronts, you will bring about the destruction of the German war machine, the elimination of Nazi tyranny over the oppressed peoples of Europe, and security for ourselves in a free world.
On 6 June 1944, a date known ever since as D-Day, Allied troops crossed a narrow strip of sea from England to Normandy, France, and took back Western Europe from Hitler's Nazi regime. Code-named Operation Overlord, this endeavour involved more than 5,000 ships and was the most massive amphibious assault that the world had ever seen.
The landings were conducted in two phases: an airborne assault and an amphibious landing of Allied infantry and armoured divisions on the coast of France.
First, an attack force of 24,000 American, British, Canadian, and Free French airborne troops filled the night skies above southern France. Then, on five wind-swept Normandy beaches code-named Sword, Juno, Gold, Utah, and Omaha, over 160,000 troops came ashore.
The airborne assault into Normandy as part of the D-Day invasion was the largest use of airborne troops up to that time. Paratroopers of the US 82nd and 101st Airborne divisions, the British 6th Airborne Division, the 1st Canadian Parachute Battalion, and other attached Allied units took part in the assault, flying from bases in southern England to the Cotentin Peninsula in approximately 925 C-47 airplanes.
These were just some events in the huge canvas that was D-Day… just a series of actions among the unfolding narrative that eventually led to the end of the war in Europe and in the months ahead, as the Allies gradually ground down enemy resistance, the tide of battle shifted from initial successes such as the liberation of France to the brutal Battle of the Bulge in Belgium.
Today, we can think back and marvel at what happened on that day 69 years ago and say thank you to those veterans who are still with us.
Published 6 June 2013