World news story
Cycling for a good cause: Staff from the British Embassy Paris and the consulates cycle from Paris to London
On 17 May, 20 staff embarked on a bike ride to raise money for charity and promote consular messages for travelling Britons.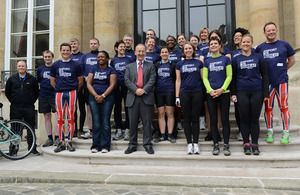 The two charities are the Association L'Enfant Bleu - Enfance Maltraitée and the National Society for the Prevention of Cruelty to Children (NSPCC).
Cycling along the "Avenue verte" cycle route
The British Ambassador to France, Sir Peter Ricketts, sent them on their way along the "Avenue Verte" cycle route, inaugurated in 2012 for the London Olympic Games. This route will take them through Paris, Hauts-de-Seine, Yvelines, Val d'Oise, Oise, Eure and Seine Maritime. On arrival in Dieppe, Sunday 19 May, the group will attend a wreath-laying ceremony in memory of the 3,600 British and Canadian soldiers and airmen who were injured or died during the 1942 Raid on the port of Dieppe before boarding a ferry to Newhaven.
From there, they with continue their route through the South of England, to the Foreign and Commonwealth Office in London where they will be welcomed by British Parliamentary Under Secretary of State, Mark Simmonds MP, on Tuesday 21 May.
Promoting consular messages
As well as raising money for charity, the cyclists will use the trip to raise awareness of carbon-neutral transport, explain to members of the public what an Embassy does, promote consular messages for Britons about preparing carefully for their holidays in order to have a great time when abroad and promote "Inspired By 2012", encouraging people to continue with sport one year after the United Kingdom hosted the 2012 Olympic and Paralympic Games.
Best wishes from Dame Sarah Storey for cyclists "Inspired by 2012"
Dame Sarah Storey, the most highly decorated female Paralympic athlete in history, has sent her best wishes to the group of cyclists who are biking 200 miles (320km) from Paris to London as part of the "Inspired By 2012" campaign. It will will showcase a series of sporting events this summer, culminating in the re-opening of the Queen Elizabeth Olympics Park in July. Dame Sarah Storey said:
I was thrilled to hear that this cycle ride was inspired by 2012. It is a great thing to do and I hope they enjoy it.
Follow the cyclists' progress on our social media:
Contributions for the charities: http://www.justgiving.com/teams/greatbritishbikeride
Published 16 May 2013
Last updated 17 May 2013
+ show all updates
Picture updated
First published.