World news story
Cyber Security Capacity Building Programme 2015-16
The call for bids for the Cyber Security Capacity Building Programme is now open.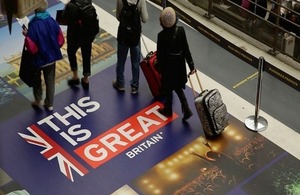 The UK's Foreign and Commonwealth's Office's Cyber Security Capacity Building Programme was launched by the British Foreign Secretary at the Budapest Cyber Conference in October 2012. The Programme is part of the UK's National Cyber Security Strategy and supports the UK's vision to derive huge economic and social value from a vibrant, resilient and secure cyberspace, where our actions, guided by our core values of liberty, fairness, transparency and the rule of law, enhance prosperity, national security and a strong society.
We are looking for transformational projects that support the UK's National Cyber Security Strategy and help the strengthening of cyber security in Mexico. Projects should fall into one or more of the following thematic areas:
Capacity Building: Promoting cyber security through research or training. Help create cyber security capacity in Mexico (with particular interest in government at all levels).
Joint research on cyber: Linking UK and Mexican Universities to conduct joint research, training, or sharing best practices on cyber security.
Cyber crime and cyber bullying: Boosting capacity and frameworks to tackle cyber bullying and cyber crime in Mexico
Critical National Infrastructure: Resilience of Critical National Infrastructure in Mexico
Financial services: Strengthening frameworks to tackle cyber financial crimes
We are willing to consider proposals that fall outside of these themes provided they support the UK's Cyber Security Vision.
Who can bid?
Project proposals are welcomed from businesses and NGOs with the credibility and influence to bring transformational change.
The Programme Board will consider projects against the following criteria:
Strategy, outcomes and impact

Impact on the UK's National Cyber Security Strategy objectives;
Co-ordination with, and building on, other cyber security capacity building efforts;
Evidence of sustainability and scalability;
Past performance of implementer;
Projects are encouraged to include UK expertise and/or partnering with UK organizations

Design

Clarity
Coherence and relevance of purpose, outputs, activities and indicators;

Host government(s) and British Embassy support for the project and evidence of wider stakeholder support and engagement;

Risk assessment adequacy, including around human rights, and evidence of an on-going due diligence mechanism;

Clear, detailed budget and robust value for money;

Monitoring and evaluation planning.
Please note that all bids must be written in English.
Guidelines for submitting a project proposal
Proposals must be submitted on the standard FCO project proposal form. For the first part of the project only concept notes are required. If proposal is successful they should then be submitted in full and in accordance with the guidance provided. Incomplete proposal forms will not be reviewed by the Post Programme Board. If any aspect of the form requirements is unclear to applicants, we strongly recommend consultation with Erika.Macarty@fco.gov.uk

Key points to note for full bids are:

Part A should include both qualitative and quantitative milestones. Details of beneficiary group participation and needs should include an explanation of how this will be measured and demonstrated.
Part B of the form should be completed by the FCO. Proposals submitted by external partners should however include annexed evidence of:
previous experience delivering similar projects;
strong assessment of any human rights risks associated with the proposed activities; and
a clear statement of whether the implementer approves public reference to the project, with reasoning.
Monitoring methods should be robust, transparent and include scope for beneficiary input. The methods identified should be designed to give a meaningful assessment of the project's impact from a wide range of stakeholders.

Proposals must demonstrate a full assessment of project risks, with particular attention to any human rights implications. Implementers should identify any risks which might apply to the project, what steps will be taken to mitigate those risks, and how risks will be reviewed during the project cycle. The implementer must have an internal due diligence process in place to monitor these risks. Proposals will not be approved without realistic risk assessments.

Projects should be budgeted in Pounds Sterling and demonstrate value for money. Budgets should give a detailed breakdown of cost per activity per month. For example, when budgeting for travel, details should be provided to show cost per person, per flight, including departure and destination, class of travel and date window. Travel and accommodation costs should be in line with FCO guidance.

Strong proposals will spread the cost of the project throughout the year, avoiding where possible spend in the final quarter.
Terms of contracts
Agreements will be subject to FCO standard contract terms:
The financial year runs from 1 April 2015 – 31 March 2016. All funded activities must start in April 2015 and be completed by 31 March 2016. Activities taking place after that date will not be funded.
At this stage in the Programme we cannot fund multi-year projects.
Timings
Project Concept form should be submitted to the British Embassy by 12 December 2015 at Erika.Macarty@fco.gov.uk We aim to avoid spending in the final quarter where possible.
| | |
| --- | --- |
| 12 Dec | Deadline for submitting concept bids |
| 19 Dec | Results will be given to implementers |
| 22 Dec- 9 Jan 2015 | Bids will be discussed between the implementers and the British Embassy in Mexico for the elaboration of full bids |
| 12Jan | Deadline for full bids |
| 16 Jan | Post Programme Board |
| 19 Jan | Notification of Post Programme Board Results |
| 19 Jan | Posts will submit the successful proposals to the Cyber Security Capacity Building Fund in London |
| 16 Feb | CSCB Programme Board to meet in London |
| 27 Feb | Posts informed of outcome |
| 2 Mar | Post notifies successful implementers |
Project Concept Form (MS Word Document, 56KB)
Published 1 December 2014