Cutting red tape for summer fetes
Communities Secretary Eric Pickles wants to stem the flow of relentless form filling, high costs and red tape for organising summer street parties…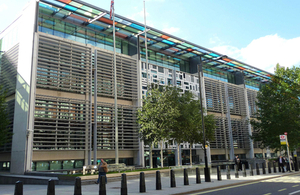 Communities Secretary Eric Pickles wants to stem the flow of relentless form filling, high costs and red tape for organising summer street parties and fetes.
Extortionate, inconsistent costs and paperwork for road closures, risk assessments, and temporary event notices are barriers to community events. It can often take weeks and cost thousands of pounds for councils trying to process these applications, which can deter both councils and organisers from putting on events.
There are examples of local communities having to apply for up to five separate licences, pay up to £5,000 for a temporary road closure and obtain insurance cover for £2million for a typical outdoor event.
Communities Secretary Eric Pickles said:
"Summer fetes and street parties are a great British tradition that we risk losing to overbearing bureaucracy.
When it comes to putting on street parties, it's like a red tape tombola for organisers depending on which council is processing their application.

Of course we want people to be safe and sound but common sense has to prevail. People are being turned off getting involved due to a merry go round of forms, rules that differ from one council to the next, time and expense. It is time to get a grip, especially if we are to cultivate a sense of community, fix broken Britain and create the Big Society.
There is often an inconsistent approach by councils who charge different fees and use a number of conflicting regulations, which can present barriers and confusion for small voluntary groups. Organisers can also find it tricky to get upfront advice on public liability insurance, and find out about hidden costs at the last minute.
Mr Pickles is working across government to agree a consistent approach for councils to follow. This will result in good practice guidance being set out for councils and more upfront transparency on what organisers need - whether it's public liability insurance, road closure notices or health and safety assessments.
Notes to Editors
The main barriers to holding street parties and fetes are:
Temporary Road Closure under Town Police Causes Act 1847
The costs of road closures usually cover traffic management, signage and advertising the closure in local press.
Councils differ in their approach; some pass all of the costs on with an additional fee, whilst others don't charge at all.
The costs for temporary road closure can range from £25 - £2,100. In many cases the charges are non-negotiable but some authorities group applications together, cover them with a single traffic management order and divide cost amongst participating groups if they received lots of applications for one initiative.
Councils require organisers to get written consent from all local residents for their event to go ahead. This can pose problems as it can be time consuming and events are sometimes unable to go ahead because of a small number of people not approving or not responding.
Councils can require anywhere between 1 and 12 weeks' notice for road closure applications. Large lead in times can cause problems, especially when they are not published anywhere in the council's communications.
Organisers often have to hire signs from an outsourced company and some require a deposit, in addition some may charge a fee.
Public Liability Insurance
Some councils cover street parties under their own Public Liability Insurance and others require that the organiser takes out insurance to a certain level of cover. The cost of insurance also varies widely, and can be anything from £60-£2,000 for a local outdoor event.
As well as the cost of the insurance, requiring people to take out insurance often causes more worry as they believe they are going to get sued by their neighbours (for example if they organise a bouncy castle). Small organisations and local residents are also put off by the form filling involved or struggle to complete the insurance forms.
Temporary Event Notice (TEN) under Licensing Act 2003 and Entertainment Licenses
The Temporary Events Notice is required if the organiser is supplying alcohol or providing regulated entertainment as defined in the Licensing Act 2003, this requires 10 clear working days to process. Councils charge a fee of £21 for a TEN.
If a larger event or festival is being held, the organiser will have to apply and pay for premises licenses a well as license for food, drink and entertainment, as applicable. However, organisers are often unsure whether licenses for food or drink, music and gambling are necessary for their event, if the council does not publish this guidance.
If there was a lottery or raffle with tickets sold in advance offering cash prize of up to £1,000, the organisers would have to fill in Lottery Registration Form.  The cost of this form is approx £40; whilst residents parties are exempt from this fee, it is not always clear whether larger parties such as fetes would need a registration form.
PRS Music License (or royalties to composers) is needed if recorded music is played; this costs £13 but the fee may be waived if the fete is for a good cause. The lack of signposting on local authority website makes its difficult to know what is required.
PPL License is needed for larger events to pay recorded music or royalties to the performers; this costs £41 plus VAT.
A license of premises to hold an animal gathering is also needed if a village fete or event in a park wants to have farm animals on show.
Risk Assessments and Health and Safety
Depending on the size of the event, organisers could be required to carry out a risk assessment for their event. Some authorities provide little or no guidance or templates on what this entails, and where this is available it can be daunting and put people off from organising an event.
Whilst the Health and Safety Executive (HSE) produces a risk assessment toolkit for organisers to use on how to identify, manage, evaluate, record and review risks, this can be quite a lengthy document as it is primarily for those 'at work'. The HSE has asked for common sense approaches to risk management and to be more 'proportionate' but organisers sometimes find the messages on risk from various authorities confusing; in addition most insurers will not cover an event unless a detailed risk assessment has been conducted.
Many councils are already making it easier for organisers to arrange street parties, such as the Big Lunch which took place in July. This can be done by providing funding from events budget and working with voluntary organisations. 
Newcastle City Council has a fund for community focused activity that Big Lunch organisers could apply to - up to £300 per event.
London Borough of Croydon roll out all special events applications into a single traffic management order to reduce costs.
Birmingham City Council, Norwich County Council charge for specific elements involved in closures, for example organisers have to cover cost of signage or advertising the closure in local press but are not charged for any additional fees.
Coventry City Council are providing grants to cover the cost of insurance for road closures.
This year the Big Lunch also covered the cost of insurance for road closures.
The London Borough of Sutton supported The Big Lunch and charging a reduced rate of £25 in a bid to get as many people to take part as possible.
The London Borough of Wandsworth charged a £75 fixed fee which contributed to the costs of drawing up legal notices, publishing adverts and other costs associated with a road closure.
Councils not charging for road closures include:
Birmingham City Council Bristol City Council
Central Bedfordshire Council
Cornwall Council
East Devon District Council
Gateshead Council
Ipswich City Council
Norwich City Council
St. Albans City and District Council           
Trafford Borough Council                    
Southend on Sea Council
Surrey County Council
London Borough of Barnet
London Borough of Bexley                 
London Borough of Croydon
London Borough of Kingston Upon Thames
London Borough of Lambeth                                                   
London Borough of Lewisham                             
London Borough of Southwark
London Borough of Tower Hamlets
Twitter
Keep up to date with the Department by following us on Twitter (external link).
Media enquiries
Visit our newsroom contacts page for media enquiry contact details.
Published 1 August 2010