Cumbrian training estate helps reduce carbon footprint
Training provided at Warcop and other DTE sites across the UK is vital in preparing troops for operational deployment. Working with the Woodland…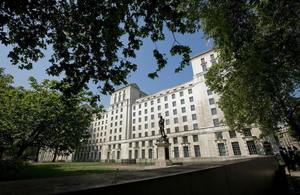 Training provided at Warcop and other DTE sites across the UK is vital in preparing troops for operational deployment. Working with the Woodland Trust and its partners enables the Defence Infrastructure Organisation (DIO) to improve training facilities on behalf of the MOD without extra costs, with the additional woodland cover being used for military training needs.
The partnership between DIO and the Woodland Trust has resulted in the Warcop estate being chosen for the Trust's Woodland Carbon project, which works to remove carbon from the atmosphere through the creation of native woodland.
DIO Deputy Chief Executive David Olney said:
Supporting our Armed Forces is the top priority for DIO. We are delighted to join forces with the Woodland Trust and respond to military training needs in providing woodland cover which will benefit soldiers preparing for operations. This excellent initiative allows us to improve training facilities, whilst securing significant conservation and environmental benefits at no extra cost to the MOD.
In one of the least wooded areas of the UK and an area of outstanding natural beauty, the Cumbrian project is having a positive effect not only on the landscape and preservation of wildlife habitat but also local employment.
The Trust's Woodland Creation Adviser for the North, Peter Leeson, said:
This is a fabulous large-scale planting scheme for biodiversity in Cumbria with the added benefits of employing lots of local people. Forestry workers may otherwise struggle to find local employment, particularly during the winter season.
The partnership will eventually create 160 hectares of woodland at Warcop - doubling the existing amount of woodland on the estate. In total, the site will lock up 110,000 tonnes of CO2.
Published 28 November 2011