Culture Secretary's Olympic tour kicks off in Cumbria
Businesses Urged to Make the Most of 2012.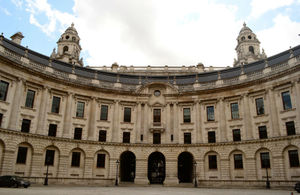 Businesses in Cumbria were today urged to make the very most of the opportunity of the country hosting the Olympics, as Secretary of State for Culture, Olympics, Media and Sport Jeremy Hunt kicked off a nationwide '2012 tour' in Penrith.
Addressing more than 100 hoteliers, businesses and tourism bodies from across Cumbria, the Secretary of State said that the region was one of the most stunning parts of the country, and that there were big wins to be had in 2012 for Cumbria's tourism industry in particular.
He also revealed that the region would feature in major international and national marketing campaigns to promote UK tourism in 2012, and urged local tourism firms to sign up to a new 20.12 per cent discount scheme.
The event, which was hosted by Eric Robson, Chairman of Cumbria Tourism, showcased the business, tourism, cultural and sporting opportunities that the Games bring.  It also featured internationally acclaimed Cumbrian drumming band Boom Dang.
Other speakers included John Penrose (Tourism Minister), Ruth Mackenzie OBE (Director of the Cultural Olympiad), Andy Worthington (Chair of the North West Steering Group for the 2012 Games) and James Berresford (Chief Executive of VisitEngland).
Jeremy Hunt said: "Last year, 40 million visitors came to Cumbria, bringing £2 billion into the local economy. Next year, we can do even better.  We have a once-in-a-generation chance to show the world the very best of Cumbria - from the stunning scenery of the Solway Coast and The Lakes, to cultural and historic sites like Dove Cottage and Tullie House, and Michelin-starred restaurants like Holbeck Ghyll and Sharrow Bay.
"And with so much going on, including the fantastic Lakes Alive spectacular on Windermere, 2012 is also the perfect time for more of us to holiday at home. That's why I am working with VisitEngland on a new 20.12 per cent discount scheme to encourage more people to experience the delights of Cumbria and other parts of the UK.  Lots of household names are already signed up, and I urge local tourism businesses to get on board as well."
VisitEngland's Chief Executive, James Berresford said:
"I'm delighted to be here in Cumbria with the Secretary of State, Jeremy Hunt, and Tourism Minister, John Penrose.  This exciting tourism road-show launches England's most high profile campaign to boost domestic tourism, and is designed to highlight the fantastic experiences Britons can enjoy on their doorsteps.  Next year offers the tourism industry a number of fantastic opportunities.  Not only will England be showcased to billions all over the world, but we have the opportunity to grow domestic tourism by inspiring Britons to rediscover England and take a holiday at home next year.  Our job as the national tourist board is to work with the industry to harness the pride we know is felt by local residents and to inspire them to act as ambassadors for their destinations for next year and beyond."
Eric Robson, Chairman of Cumbria Tourism said: 'We are pleased to be hosting the minister in Cumbria as he starts his nationwide tour. We are proud that he has chosen to launch this campaign, designed to boost England's tourism offer, in the heart of the Lake District, Cumbria, one of England's premier holiday destinations. The campaign is about highlighting what England has to offer, and it is a fantastic opportunity for us. We offer outstanding accommodation, fantastic local food and drink, adventure, culture and heritage, and we have much to show the millions of visitors who come here each year.  With Britain's favourite view, deepest and longest lakes, highest mountains, stunning landscape and inspirational coastline, what we have to offer is unparalleled anywhere else in England. Cumbria, simply put, has it all. So we encourage visitors to think of us and come linger a while and discover our all-year-round destination experiences in one of England's favourite visitor destinations.''
Mr Hunt also visited Richard Rose Central Academy in Carlisle today, where he hosted a school sport summit, along with wheelchair basketball athlete Mark Fosbrook.  At the event Mr Fosbrook spoke about how sport was his inspiration, and urged schools to sign up for the new School Games school sport competition.  Using the inspiration of London's Olympics, the competition is helping to transform competitive sport in schools and get more young people playing sport. 
Mr Hunt added: "The School Games will leave a real lasting legacy from London's Olympic and Paralympic Games.  They will transform sport in school, bringing back competition and getting rid of 'prizes for all'.  There is still time for schools to sign up for the competition, which will have its first finals in the Olympic Park next year."
The events in Cumbria today were the first in a series of events around the country hosted by Mr Hunt, to help all parts of the country make the most of the opportunities of the Games, and to urge schools to sign up to the School Games competition.
Mark Fosbrook, Paralympian and Sporting Champion said:
"The School Games promises to offer a range of opportunities for young people to learn more about themselves through a series of well organised competitions. I have seen many youngsters grow in self-confidence by being part of a team, working as volunteers and officials. As a Sporting Champion, I hope that I can support young people in local communities to develop their talents and get into sport!"
Notes to Editors
Mark Fosbrook is a wheelchair basketball player, a member of the British Wheelchair Basketball Squad and is currently training to be selected for the senior team for London 2012.

Boom Dang is a side-ways drumming band, which performs with choreography, drums and tuned percussion.  They play an original mix of Drum & Bass, Bhangra, Drumline, Latin, Afro-Beat, Merengue and Moroccan trance.  Further information here.  Today's performance featured  Daniel Nicholson, Joe Nicholson, Jake Newton, Rachael Askew, Kim Tweddell and Darren Head.

For further information about tourism in Cumbria please contact Greg Stephenson at Cumbria Tourism on 01539 825060 or email gstephenson@cumbriatourism.org.

For further information about Visit England contact Sarah Long on 0207 578 1452 or email sarah.long@visitengland.org.

For further information about Richard Rose Central Academy please contact Evlyn Goddard on 01228 674114/07920 473786 or email evlyn.goddard@kingmoorpark.co.uk.

More information about London 2012 is here and here.

The GREAT initiative is an international campaign to maximise the tourism and business opportunities of the UK hosting the 2012 Games.

This is the first of a series of regional visits that Jeremy Hunt is making around the country to promote the opportunities of 2012.  The provisional list of other dates is:
* 16 November: East Midlands (Nottingham) 
* 18 November: South West (Eden Project) 
* 23 November: West Midlands (Birmingham) 
* 1 December: East of England (Norwich) 
* 2 December: South East (Canterbury) 
* 16 December: North East (Gateshead) 
* 12 January: London 
* 18 January: Yorkshire & Humber (York) 
* 20 January: North West (Manchester) 
* Scotland, Northern Ireland and Wales to be confirmed  

The School Games is a new school sport competition, using the inspiration of London's Olympics and Paralympics to help transform competitive sport in schools and get more young people playing sport.  Open to all schools, there are three levels of competition (class versus class, school versus school and then county or city wide sports festivals) leading up to the showcase final on the Olympic Park. The School Games will continue after 2012 and the ambition is for the finals to be held in the Olympic Park at regular intervals. Schools have until the end of January to sign up.  Further information about the school games is available on the DCMS website and the Your School Games website.    
Press Enquiries: 020 7211 2210
Out of hours telephone pager no: 07699 751153
Public Enquiries: 020 7211 6000
Published 23 February 2012