Culture Secretary's Olympic tour comes to North East
Businesses Urged to Make the Most of 2012 as Schools urged to sign up for Sainsbury's School Games.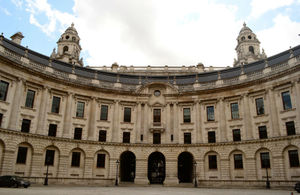 Businesses and sport in the North East region were top of the agenda today as the Culture Secretary held the latest in a series of countrywide `2012 summits' at The Sage Gateshead and Benfield School, Newcastle.
Addressing more than 200 hoteliers, businesses and tourism bodies from across the region at The Sage Gateshead, Mr Hunt urged businesses to make the very most of the opportunity of the country hosting the Olympics and Paralympics. He also revealed that the region would feature in major international and national marketing campaigns to promote UK tourism in 2012 and encouraged local tourism firms to sign up to a new 20.12 per cent discount scheme. 
The event, which was hosted by Jamie Martin (Chair, NewcastleGateshead Initiative), showcased the business, tourism, cultural and sporting opportunities that the Games bring. Other speakers included James Berresford (Chief Executive, VisitEngland), Geoff Hodgson (Chair of North East Regional Board for 2012 Games) and Ruth McKenzie (Director, Cultural Olympiad).
Jeremy Hunt, Secretary of State for Culture, Olympics, Media and Sport, said:
"I've had a fantastic day in Newcastle and Gateshead. There's so much going on in the North East - it's a region with a rich culture, strong sporting traditions and beautiful countryside. With the Olympic Torch Relay spending five days in the region and St James' Park playing host to nine Olympic football matches, the 2012 Games offer huge opportunities to businesses here and I would urge everyone to get on board and make the most of them."
VisitEngland's Chief Executive, James Berresford, said: "I'm delighted to be here in NewcastleGateshead to take part in this exciting initiative to launch England's most high profile campaign to boost domestic tourism.  The campaign is designed to highlight the fantastic experiences Britons can enjoy literally on their doorsteps. 2012 offers the tourism industry a number of unprecedented opportunities.  Not only will England be showcased to billions of people all over the world, but we have the opportunity to grow domestic tourism by inspiring Britons to rediscover England and take a holiday at home next year. Spear-heading the promotion will be a high profile TV campaign and specially devised discounted offers. Our job as the national tourist board is to work with the industry to harness the pride we know is felt by local residents and to inspire them to act as ambassadors for their destinations for next year and beyond."
Sarah Stewart, Chief Executive NewcastleGateshead Initiative, said: "We're delighted to welcome Jeremy Hunt here at a time when we're gearing up to ensure that NewcastleGateshead and the wider region benefits from the many opportunities associated with the London 2012 Games. We stand to gain significantly from improved external perceptions, greater national and international profile, significant business contracts and a boost for the visitor economy in the short and long term.
"Not only is Newcastle an Olympic host city - with nine football matches at St James' Park which will draw both visitors and coverage - but we are also working with many cultural partners to programme a summer of festivities. These events will capture the spirit of celebration around the Games, as well as making NewcastleGateshead an attractive and exciting short break destination for visitors this year."
Mr Hunt was joined for a School Games summit at Benfield School by former Olympic swimmer Chris Cook. He urged local schools to sign up for the new Sainsbury's School Games competition which will have its first final in the Olympic Park in May and is helping to transform sport in schools.
The competition is supported by a £10 million funding package from Sainsbury's, £8 million of Lottery money and £14 million from the Department of Health. Adidas have signed up as official kit supplier.
The School Games competition is part of the Government's new youth sport strategy.  Together, they will get more young people playing sport and deliver a real sporting legacy from the 2012 Games.
While at Benfield School, Mr Hunt met young people taking part in a School Games rowing competition and a demonstration of wheelchair football.
With 183 days to go until the opening ceremony of the inaugural Sainsbury's School Games final in the Olympic Park, the Culture Secretary urged local head teachers, students and school games organisers to sign up to the competition before the deadline on the end of January.  He used the opportunity to emphasise the importance of making the most of London's Olympic and Paralympic Games to help transform school sport and get more young people playing sport. 
Notes to Editors
For further information about VisitEngland England contact Sarah Long on 0207 578 1452 / sarah.long@visitengland.org.

The GREAT initiative is an international campaign to maximise the tourism and business opportunities of the UK hosting the 2012 Games.

Mr Hunt is making a series of visits around the country to promote the opportunity of 2012. So far he has visited:

Cumbria (9 November)
East Midlands (16 November)
South West (18 November)
West Midlands (23 November)
South East (2 December)
North west (12 January)
Yorkshire and Humber (18 January)
East of England (20 January)
North East (26 January)
Future dates are (provisionally):
* London (2 February) 
* South East (10 February) 
* Scotland, Wales and Northern Ireland (tbc)  

Press Enquiries: 020 7211 2210
Out of hours telephone pager no: 07699 751153
Public Enquiries: 020 7211 6000
Published 2 April 2012