Culture Secretary's Olympic tour arrives in Cornwall
Six months before the Olympic Torch arrives in Cornwall, businesses are urged to make the most of 2012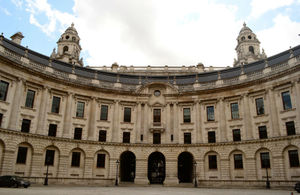 Businesses in Cornwall and the South West were today urged to make the very most of the opportunity of the country hosting the Olympic and Paralympic Games, as Secretary of State for Culture, Olympics, Media and Sport Jeremy Hunt continued his nationwide '2012 tour' at the Eden Project in Cornwall.
Addressing more than 100 hoteliers, businesses and tourism bodies from across Cornwall, the Culture Secretary said that the region was one of the most stunning parts of the country, and that there were big wins to be had in 2012 for Cornwall - in particular its tourism industry.
Mr Hunt also revealed that the region would feature in major international and national marketing campaigns to promote UK tourism in 2012, and urged local tourism firms to sign up to a new 20.12 per cent discount scheme.
The event, which was hosted by Suzanne Bond, Chief Executive of the Cornwall Development Company, showcased the business, tourism, cultural and sporting opportunities that the Games bring. 
Other speakers included John Penrose (Tourism Minister), Bill Morris (Director of Ceremonies at London 2012), David Fursdon (South West member of the London 2012 Nations and Regions group) and Lady Cobham (VisitEngland's Chairman).
Jeremy Hunt said:
"Last year, 4.3 million visitors came to Cornwall, bringing £1 billion into the local economy. Next year, with the Games and our biggest-ever tourism marketing campaign we can do even better.  With the Torch Relay passing right through the area - including taking a balloon flight at the Eden Project - we have a once-in-a-generation chance to show the world the very best of Cornwall and the South West. From the atmospheric countryside of Bodmin Moor, to cultural and historic sites like St Michael's Mount and Cornwall's mines, and Michelin-starred restaurants like Driftwood and Restaurant Nathan Outlaw, Cornwall and the South West have it all- and we need to make sure the whole world knows."
VisitEngland's Chairman Lady Cobham said:
"I'm delighted to be here in Cornwall with the Secretary of State, Jeremy Hunt, and Tourism Minister, John Penrose. This exciting tourism roadshow launches England's most high profile campaign to boost domestic tourism, and is designed to highlight the fantastic experiences Britons can enjoy literally on their doorsteps. 2012 offers the tourism industry a number of unprecedented opportunities.  Not only will England be showcased to billions of people all over the world, but we have the opportunity to grow domestic tourism by inspiring Britons to rediscover England and take a holiday at home next year. Spear-heading the promotion will be a high profile TV campaign and specially devised discounted offers. Our job as the national tourist board is to work with the industry to harness the pride we know is felt by local residents and to inspire them to act as ambassadors for their destinations for next year and beyond."
Suzanne Bond, Chief Executive of the Cornwall Development Company said:
"We are delighted to welcome the Culture Secretary and Tourism Minister to Cornwall during their nationwide tour.  Their visit follows Cornwall's recent successes in the 2011 British Travel Awards, where it not only won three top awards but is now confirmed as the top UK holiday destination for the third year running.  The 2012 Games provide the opportunity for Cornwall to attract new visitors to the county from traditional and emerging markets.  These visitors will have a first class experience of Cornwall's outstanding tourism offer as well as witnessing first hand the pioneering and transformational changes across the county."
Notes to Editors
For further information about tourism in Cornwall please contact Angela Penrose at VisitCornwall on 01872 322933 / Angela.Penrose@visitcornwall.com.

For further information about VisitEngland contact Sarah Long on 0207 578 1452/ sarah.long@visitengland.org

DCMS website and the London 2012 website

The GREAT initiative is an international campaign to maximise the tourism and business opportunities of the UK hosting the 2012 Games 

Mr Hunt is making a series of visits around the country to promote the opportunities of 2012. He visited Cumbria on 9 November and Nottingham on 16 November. Other provisional dates are:
23 November: West Midlands (Birmingham)
1 December: East of England (Norwich)
2 December: South East (Canterbury)
16 December: North East (Gateshead)
12 January: London (tbc)
18 January: Yorkshire & Humber (York)
20 January: North West (Manchester tbc)

Scotland, Northern Ireland and Wales to be confirmed

South West 2012 factsheet (PDF 39kb).
Press Enquiries: 020 7211 2210
Out of hours telephone pager no: 07699 751153
Public Enquiries: 020 7211 6000
Published 25 November 2011