News story
Culture Secretary meets with Russian Deputy Prime Minister
Culture Secretary John Whittingdale has met with Russian Deputy Prime Minister Olga Golodets ahead of the Cosmonauts exhibition.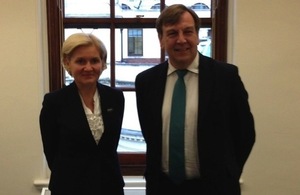 Ahead of the launch of the Cosmonauts exhibition at the Science Museum, the Culture Secretary John Whittingdale met with Russian Deputy Prime Minister Olga Golodets to discuss cultural collaboration between the two countries.
Following the meeting, Culture Secretary John Whittingdale said;
As the opening of the Cosmonauts exhibition demonstrates, the UK and Russia have a long history of cultural collaboration that encourages and strengthens people-to-people links. We discussed the UK-Russia Year of Culture in 2014 and agreed to build on it with future projects. It is important that we continue to develop cultural, educational and scientific links between our countries.
I noted that there are areas where the UK and Russia strongly disagree such as Ukraine. I stressed the need for Russia to fully respect Ukraine's sovereignty and territorial integrity and for all sides to fully implement the Minsk agreements.
I also raised my concerns about the deteriorating human rights in Russia and in particular the sentencing of Ukrainian film director, Oleg Sentsov.
Published 17 September 2015