Press release
Culture Minister hopes a 'stitch in time' can save embroidery masterpiece at risk of export
Ed Vaizey temporarily saves May Morris wall hangings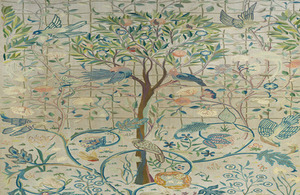 Culture Minister Ed Vaizey has temporarily blocked the export of a pair of exquisite wall hangings by May Morris (1862-1938), an influential figure in the history of embroidery in the UK. The panels of hand-spun and hand-woven linen, embroidered with natural dyed crewel wool, are set to leave the UK early next year unless a buyer comes forward to secure them for the nation.
The hangings are thought to have been made for Melsetter House on the island of Hoy in the Orkneys, between 1898 and 1902. Melsetter was designed by Arts and Crafts architect William R. Lethaby and exemplifies the principles of the Arts and Crafts movement in the 1890s — built with simplicity and strength by local craftsmen using local materials, and designed to be in harmony with surrounding nature.
The Melsetter hangings are among May Morris's outstanding achievements as a designer and are striking examples of the importance of embroidery in the Arts and Crafts. Although worked with unassuming materials, the composition has depth, is vibrant and successfully combines the historical prototypes loved by her father, embroiderer William Morris, with her own characteristic balanced composition, unifying plants and animals.
Culture Minister Ed Vaizey took the decision to defer granting an export licence for the hangings following a recommendation by the Reviewing Committee on the Export of Works of Art and Objects of Cultural Interest (RCEWA), administered by Arts Council England, on the grounds they are of outstanding significance for the study of the Arts and Crafts at the beginning of the 20th century and its relationship to Scotland.
Culture Minister Ed Vaizey said:
" It is rather amazing that these beautiful hanging panels, intricately decorated by a true embroidery virtuoso have survived in such good condition. It's often said that 'a stitch in time saves nine', and I hope that a timely matching offer can do the trick here. In that way they can remain in the UK where they can be enjoyed and studied in greater detail."
Philippa Glanville from the RCEWA commented:
" These evocative wall hangings express both the personal taste and the hand skills of May Morris, showing how her love of nature fed her designs. Fragile and rare survivals, they speak eloquently of the Arts & Crafts world."
The decision on the export licence application for the wall hangings will be deferred for a period ending on 12 January 2014 inclusive. This period may be extended until 12 June 2014 inclusive if a serious intention to raise funds to purchase the wall hangings at the recommended price of £61,770.
For media information contact: Tamara Salhab, Media Relations Officer, Arts Council England Tel: 020 7973 5189 or 07872 416679 Email: tamara.salhab@artscouncil.org.uk
Notes to Editors
Description of items: A pair of hanging panels, of hand-spun and hand-woven linen embroidered with natural dyed crewel wool. Both hangings are of the same design worked in different colours and stitches, with a central tree between rosebushes and floral trails and birds against a square trellis background. The foreground of each panel includes a robin and rabbit. Each panel measures 191.5cm by 146cm

May Morris (1862-1938) learnt to embroider as a child and worked closely with her father William Morris. She took on the management of the Morris & Co. embroidery workroom at the age of 23. She became a leading authority on the subject of embroidery, and exhibited frequently at the Arts and Crafts Exhibition Society. May Morris also lectured at British art schools and in the United States, and did much to support the work of women artists and designers, founding the Women's Guild of Art in 1907. She played a key role in promoting embroidery as a profession, and, unusually for the time, excelled both as a designer and maker. Her work undoubtedly influenced the development of the distinctive embroidery styles taught by Jessie Newbury at Glasgow School of Art from 1896.

Organisations or individuals interested in purchasing the wall hangings should contact RCEWA on 0845 300 6200.

The Reviewing Committee on the Export of Works of Art and Objects of Cultural Interest is an independent body, serviced by Arts Council England, which advises the Secretary of State for Culture, Media and Sport on whether a cultural object, intended for export, is of national importance under specified criteria.

Arts Council England champions, develops and invests in artistic and cultural experiences that enrich people's lives. Between 2010 and 2015, it will invest £1.9billion of public money from government and an estimated £1.1 billion from the National Lottery to help create these experiences for as many people as possible across the country. www.artscouncil.org.uk
Published 13 November 2013