Culture Minister defers export on historic William IV cabinet made for collector William Beckford
Culture Minister Ed Vaizey has placed a temporary export bar on a William IV cabinet on stand.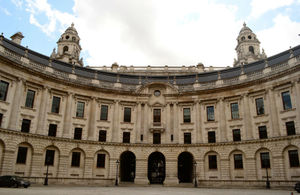 This is the only known complete survivor of a set of four such cabinets made for the scholar, connoisseur and collector William Beckford. This will provide a last chance to raise the money to keep the cabinet in the United Kingdom. 
The Minister's ruling follows a recommendation by the Reviewing Committee on the Export of Works of Art and Objects of Cultural Interest, administered by the Museums, Libraries and Archives Council (MLA). The Committee recommended that the export decision be deferred on the grounds that the cabinet is of outstanding aesthetic importance and of outstanding significance for the study of the history of furniture, history of collecting and the study of William Beckford.
This oak cabinet on stand, with gilt-bronze mounts, a glass-panelled door and silk lined interior was made for William Beckford (1760 - 1844) for the Scarlet Drawing Room at Lansdown Tower, Bath, between 1831 and 1841. The design of all the interiors and the furnishings at Lansdown Tower was a project of Beckford's old age, but one that proved the culmination of his creative genius.
Simon Swynfen Jervis, Reviewing Committee member, said:
 "This remarkable discovery formed part of a unified decorative scheme directed by that supreme collector, William Beckford, and is a quintessential document of his last and arguably most original phase."
The decision on the export licence application for the cabinet will be deferred for a period ending on 8 May 2011 inclusive.  This period may be extended until 8 August 2011 inclusive if a serious intention to raise funds with a view to making an offer to purchase the cabinet at the recommended price of £285,000 [plus £57,000 VAT, which can be reclaimed by most public museums] is expressed.
Anyone interested in making an offer to purchase the cabinet should contact the owner's agent through:
 
The Secretariat
The Reviewing Committee on the Export of Works of Art and Objects of Cultural Interest
Museums, Libraries and Archives Council
Grosvenor House
14 Bennetts Hill
Birmingham
B2 5RS
Telephone 0207 273 8271
Published 20 May 2012