Cultural shift needed says Helen Newlove
Government champion for active, safer communities begins her programme of work and launches a new blog.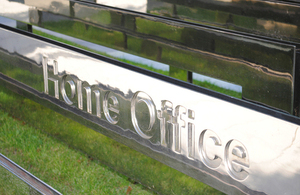 Inspirational community activists are being called on to spread their good work by the government's champion for active, safer communities, Baroness Helen Newlove.
 
Outlining her programme of work, the Baroness is working with ministers to encourage local people, businesses and frontline workers, like the police.
Series of visits
Her role will involve:
a series of visits to projects across the UK to meet people who have helped make a difference in their area, witnessing first-hand what works and what the barriers are to successful community activism
a new blog to directly communicate with activists and the wider public, sharing on-going learning from her visits, highlighting innovation and challenges and signposting people to useful resources
reporting back to ministers next year detailing how government and local agencies can empower communities
Get involved
Baroness Newlove said: 'Today we want to start inspiring people all round the country to get involved, by showcasing the excellent work already done and freeing people to take part.
 
'The government is creating the right environment for community-level activity to flourish by giving local people power over policing priorities and ending top-down government.
 
'But for a real revolution to happen we need all the existing groups to help spread their success far and wide - if every group already doing good work now helps another we will see a real cultural shift.'
Local services join forces
As part of her work Baroness Newlove will travel around the country visiting areas with strong community engagement.
In the coming weeks around six neighbourhoods across the country facing face real challenges will be chosen to act as a 'test-bed' for galvanising local services to join forces with communities and tackle problems together. 
Home Secretary Theresa May said: 'Baroness Newlove brings a wealth of experience to this important new role that really is at the vanguard of community empowerment. I look forward to seeing the results of her work which will help us all build safer and more confident communities free from crime and ASB.'
New blog launches
The new blog, 'Helen Newlove - encouraging active, safer communities,' will include updates on her visits and features on community projects to help inspire people around the country.
Launched today, it will also feature guest posts from projects and people who have made a real difference in their areas. 
Published 15 November 2010