Culdrose personnel get improved accommodation
Defence Estates (DE) has completed a £1.2M project to improve a Single Living Accommodation (SLA) block at Royal Navy Air Station (RNAS) Culdrose in Cornwall.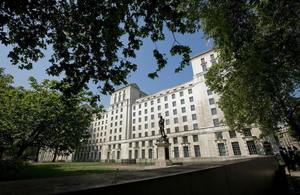 200 new and refurbished bed-spaces have been delivered with the work taking just seven months to complete. As well as more comfortable bedrooms, the work has included modernising bath and shower rooms, improving the ventilation and fitting the block with a lighting system with smart sensors to save electricity.
RNAS Culdrose is home to Merlin and Sea King helicopter squadrons - part of the Navy's Anti-Submarine, Anti-Surface Warfare and Airborne Surveillance and Control (ASaC) capability.
Two squadrons from Culdrose operate in Afghanistan on a rolling basis so personnel returning from Operations for well-deserved recuperation will benefit from this significant improvement in the accommodation on the base.
Commander Jerry Ovens, Executive Officer RNAS Culdrose, said:
I am delighted with the new facilities and particularly pleased to see that energy conservation technology had been integrated into the project.
DE's Site Estate Team Leader, Kevin Rothwell added:
The refurbishment provides much needed improvements to the accommodation for our serving personnel. The work was completed to a very high standard and with minimal disruption to occupants within the block.
Culdrose is the latest MOD location in the South West of England to get improved accommodation for the personnel based there. At Royal Marines Base (RMB) Chivenor in Devon 10 new 'eco-friendly' Service familiy homes were recently completed while in Plymouth over 300 Single Living Accommodation bed spaces at two separate sites have also been modernised.
Published 18 June 2010