News story
Busy year for military search and rescue
Official government figures show that search and rescue bases RNAS Culdrose, HMS Gannet and RAF Valley are the top 3 busiest in the country.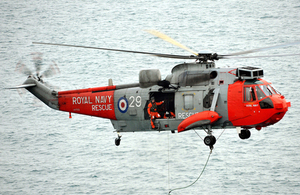 While Culdrose was the busiest search and rescue (SAR) base in England in 2013, it was ranked third busiest in the UK behind her sister Royal Navy station HMS Gannet in Scotland, which had 329 call-outs. RAF Valley in north Wales came top with 335 call-outs.
SAR crews from Culdrose carry out missions across the south west of England, and, last year, the base was ranked the busiest in England.
It is home to 771 Naval Air Squadron who are on-call 365-days-a-year in some of the most inhospitable weather conditions.
During 2013, the duty Sea King helicopter of 771 Naval Air Squadron was called out on 257 occasions. It moved 212 people, and had an average flying time of 1 hour 28 minutes while on a rescue, dealing with a high proportion of medical transfers between the Isles of Scilly and the mainland compared to other bases.
Commander Martin Shepherd, commanding officer of 771 Naval Air Squadron, said:
I am constantly impressed with the professionalism and determination of the service personnel and civilian staff who strive to ensure the aircraft are available 24 hours, every day.

Yet again, this has been a very busy year for the Royal Navy SAR force, which in 2013 celebrated its 60th anniversary. This year has got off to an even busier start and we continue to stand ready to come to the assistance of those in need.
The Royal Navy operates just 2 of the UK's 12 SAR units (4 are operated by the Maritime and Coastguard Agency, while the remaining 6 are RAF) – yet their combined share of the overall UK percentage of call-outs leaves them punching well above their weight, providing 23.7% of the overall responses.
Published 11 February 2014