News story
CSPL to visit Greater Manchester as part of local policing inquiry
Members of the Committee will be visiting Manchester on 5 February to discuss police accountability with local stakeholders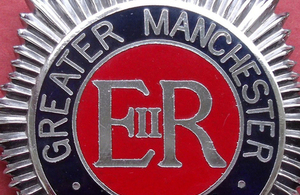 Committee members David Prince and Sheila Drew-Smith will be meeting Manchester's Police and Crime Commissioner (PCC) Tony Lloyd, Deputy Chief Constable Ian Hopkins and members of the Greater Manchester Police and Crime Panel (PCP) on Thursday 5th February as part of the Committee's national inquiry into the accountability structures of local policing.
The CSPL members will also be holding an open session from 11.30 -12.30 in Room 312 at Manchester Town Hall to meet members of the public and interested parties who would like to hear more about the inquiry or give their views on police accountability in Greater Manchester.
The Committee are also asking the public to tweet @publicstandards or email public@public-standards.gov.uk in advance with any questions they would like them to ask the PCC, PCP or police. While we are keen to hear a range of views and insights into local police accountability, it does not fall within our remit to investigate individual allegations of misconduct. Once our inquiry is concluded, the Committee will produce a report and make recommendations to the Prime Minister after the May General Election.
For more information or to arrange media interviews about this visit please contact Maggie O'Boyle on 07880 740627.
You can keep up to date on the progress of our policing inquiry by following us on Twitter.
Published 28 January 2015