News story
CSPL launches Tone from the top - leadership, ethics and accountability in policing
CSPL has concluded its inquiry into policing accountability and published its final report.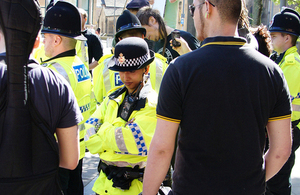 Today the Committee on Standards in Public Life published the final report of its inquiry into policing accountability: Tone from the top - leadership, ethics and accountability in policing.
In the report, the Committee calls for greater energy and consistency to be applied to promoting high ethical standards and for a more robust set of checks and balances in the accountability structures of local policing.
Lord Bew, Chair of the Committee said:
"Front line police officers have to make difficult - sometimes impossible - judgement calls every day. That has been borne in mind by the Committee throughout this inquiry. The complexity of the challenges they face means that their leaders need to set the highest standards of integrity, honesty and objectivity if they are to be trusted and respected by the public.
"PCCs have undoubtedly shaken things up. The arrival of an 'unshackled' democratically accountable figurehead has brought about new ways of working and greater public engagement in many areas. But there have also been concerns about the way some PCCs have behaved and the way in which some decisions have been taken."
Published alongside the report is an executive summary and two infographics to illustrate the key findings and recommendations of the report.
Also published today was Public Understanding of Police Accountability, research conducted on behalf of the Committee by Ipsos MORI and analysed by Chris Prosser of the University of Oxford.
The evidence we received over the course of the inquiry identified "significant standards risks including continuing confusion over roles and responsibilities, insufficient challenge and scrutiny of PCC decisions and a 'lacuna' in the accountability structures where a PCC falls below the standards of behaviour expected of a holder of public office".
The Committee held a launch event for the report in the Thatcher Room, Portcullis House on Monday 29 June. The event featured a debate between members of an expert panel including:
Dame Shirley Pearce, Chair of the College of Policing
James Dipple-Johnstone, Commissioner at the Independent Police Complaints Commission
Julia Mulligan, Police and Crime Commissioner for North Yorkshire and Chair of the APCC Transparency and Integrity Standing Group
Richard Thomas, Member of the Committee on Standards in Public Life
The presentation slides and audio recordings of the event have now been published on the Committee's website.
Published 29 June 2015