News story
CSPL holds concluding roundtable meeting with key stakeholders for policing inquiry
The Committee held the meeting on Wednesday 18 March 2015.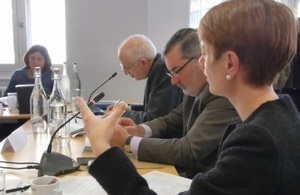 Last week the Committee on Standards in Public Life held a concluding roundtable meeting with key stakeholders for its 'Local policing - leadership, ethics and accountability' inquiry. Below you can watch the key points of the meeting.
CSPL Concluding Roundtable for Policing Inquiry: Highlights
You can watch the complete recording of the roundtable here.
The roundtable meeting was attended by the following guests:
Mary Calam- Director General, Crime and Policing Group, Home Office
Lord Carlile - Chair of London Policing Ethics Panel, Mayor's Office for Policing and Crime
Jacqui Cheer - Chief Constable, Cleveland Police and Association of Chief Police Officers' National lead for Professional Standards and Ethics
Councillor Lisa Brett (Bath and North East Somerset Council) - LGA deputy chair of Safer, Stronger Communities Board
Julia Mulligan - Police and Crime Commissioner for North Yorkshire, member of the Association of Police and Crime Commissioners' Integrity Group
Ray Marley - Detective Superintendent, Surrey Police and the College of Policing lead on Ethics and Professional Standards
Allyson MacVean - Professor of Policing and Criminology at Bath Spa University
John Raine - Professor of Management in Criminal Justice at University of Birmingham
Fraser Sampson - Chief Executive West Yorkshire OPCC
The following Committee members attended:
Published 23 March 2015