Criminals paying more than ever to help victims
£14 million of new funding taken directly from criminals' pockets will provide vital services to help victims recover from the effects of crime, Justice Secretary Chris Grayling has today announced.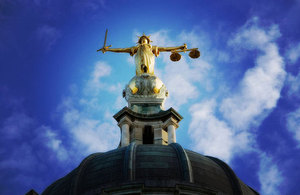 Mr Grayling and Victims' Minister Damian Green are also setting up a Victims' Panel so that those who have been affected by crime can tell ministers directly how the criminal justice system could better serve people in their position. TV presenter Charlie Webster, who has recently spoken out about the sexual abuse she suffered as a teenager, and Barry Mizen, whose son Jimmy was brutally murdered in 2008, will be part of that panel.
Justice Secretary Chris Grayling said:
We've got to make sure we give victims the best support possible. This Government is doing more than ever to make offenders pay for their crimes and fund the services victims need to recover. But that doesn't mean we can't do more.

We receive invaluable help and advice from people who work with victims every day, including the Victims' Commissioner. But I want to hear first-hand from those who have suffered personally about what we can do better to help them come to terms with and recover from the traumatic effects of crime.
Barry Mizen said:
I am pleased to invite to join this group, and to be able to bring the experience and knowledge I have acquired since the murder of my son in 2008.

It will be my intention, as part of this group, to help Ministers make objective and informed decisions.

I thank them for being prepared to listen and respond positively to the people most able to comment, and will do my best to speak for all victims of crime and their families.
Charlie Webster said:
I have campaigned against domestic violence and all form of abuse and have met too many people who have had their lives affected by mental, physical and sexual abuse. These victims often feel they don't have a voice, or the support they need. The effects of abuse has a massive knock on effect to self esteem and sadly, is a contributing factor to alcohol and substance abuse, homelessness and crime.

I've openly spoken about the sexual assault I experienced as a teenager, which is why I had no hesitation in joining the victim support panel set up by the Justice Department. If perhaps I had felt that I had a voice during that time, it may have made my experience easier to recover from.

16 years on, I feel I have recovered, but I am determined to help stamp out all forms of abuse. A massive part of ending abuse, is talking about it, bringing the subject into the open and supporting those affected by it. Unfortunately, until abuse is stamped out, there will always be victims, of all ages, gender and race and I am proud that I will be helping to give a voice to these people, by speaking to decision makers and policy leaders.
Under this Government more money than ever before is being raised from offenders specifically to help victims of crime. An increase in the penalties judges can impose on criminals from 2012 is ensuring criminals are forced to pay the price for their wrongdoing. This will contribute to the department's aim to double the funding available to help victims' services, which currently stands at £50million from the Ministry of Justice.
This is on top of range measures introduced since 2010 to ensure victims receive more support and improve their experience of the CJS. Last year the revamped Victims' Code was issued to ensure people receive more support than ever before when reporting a crime – knowing what will happen from the moment they report a crime to the end of a trial and beyond, as well as who to demand that help from if it is not been offered up.
We are also piloting pre-trial cross-examination to help young and vulnerable witnesses give evidence without going through what can be an aggressive and intimidating court experience. This is being tested in three Crown Courts and will be rolled out more widely if successful.
Notes to editors
The Victims' Panel will include Barry Mizen, Charlie Webster, Thelma Stober, Julian Hendy, Jean Taylor and Debra Clothier.

£12 million is being made available to Police and Crime Commissioners on top of their 2014/15 budgets to commission local victims' services. This will be open from Monday 7 April 2014 and PCCs will be able to bid for up to the equivalent of their 2014/15 budgets, which stand at a total of £31.55 million.

The funding will support priority categories of victims of crime, as defined in the Victims' Code. This includes victims of domestic and sexual violence, persistently targeted victims, or victims who are vulnerable or intimidated.

An extra £2 million is also being made available to support victims most in need.

The Victim Surcharge is a penalty a judge can apply when sentencing an offender. Until October 2012 the Surcharge could only be applied to fines and at a flat rate of £15. From 1 October 2012 this was extended so that the penalty payable was increased and also extended to include a wider range of punishments (including community and custodial sentences ), with the amount payable dependent on the seriousness of the sentence.

As well as this Penalty Notices for Disorder were increased from 1 July 2013 with the additional revenue also used to fund victims' services.
Published 7 April 2014