Crime statistics to become independent
Government announces that crime statistics will be published by the Office for National Statistics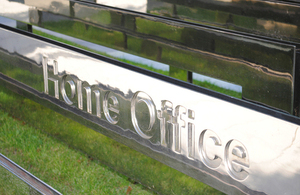 The government has laid a written ministerial statement in Parliament to respond to the national statistician's review of crime statistics that was published in June
The Home Secretary commissioned an independent review of crime statistics in January and asked the national statistician 'to decide which independent body should have future responsibility for the publication of crime statistics' and to look at how crime statistics are measured, collated and published.
Recommendations
The review recommended that:
the Office for National Statistics (ONS) should assume responsibility for the independent reporting and publication of crime statistics
the presentation of crime statistics needs further improvement to provide clarity about the coverage of the two sources of crime statistics – the British Crime Survey and police recorded crime
there should be transparent decision-making on changes that affect the published crime statistics.
The national statistician also recommended that a new independent advisory committee should be set up to take the work forward.
Government response
The government has now accepted all the recommendations of the national statistician, Ms Jil Matheson.
Commenting on the announcement Home Office Minister for Crime and Security James Brokenshire said: 'Our existing measures of crime are confusing and offer the public only a partial picture of the true level of offending. 
 
'It is in the public interest that we have measures of crime that are clear, meaningful and in which the public can have confidence.
 
'Today we are accepting all of the recommendations of the National Statistician, including the transfer of the publication of crime statistics to the independent Office for National Statistics. This is an important step towards building public trust.
 
'The National Statistician's independent Advisory Committee will now consider what further changes are necessary to improve the collection and presentation of the key data that is published nationally about crime.'
Published 18 July 2011