Cricket and deep-fried Mars Bars
Sir William Patey, HMA to Afghanistan, provided coaching and cultural advice to Afghan cricketers ahead of their tours in Scotland and Holland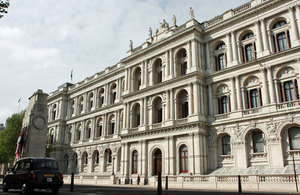 On Sunday night (13 June) some of the leading cricketing nations were represented at the British Embassy. The English, Pakistanis, Indians, Dutch and Scottish all attended a reception for the Afghan National Cricket Team.
Wait…Dutch and Scottish? At a cricket event?
Yes, that does sound a little strange at first, but, actually, the Dutch, Scottish and Afghans are bound together by cricket this summer. In July, all three nations will be competing in the ICC's World Cricket League Division One along with Canada, Ireland and Kenya.
The Afghan National Team is to depart shortly for Europe where the Division One matches will take place in the Netherlands. They are also playing several times in Scotland both before and after the League matches.
So, with a proudly Scottish Ambassador, Sir William Patey, the British Embassy thought it wise to hold a reception for the Afghan team to wish them luck in their games (except those against Scotland) and to pass on some valuable advice, both cultural and sporting, to help the team during their visit to Scotland.
In particular, Sir William forewarned the team of the dangers of eating a pre-match deep-fried Mars Bar, which he said could produce a sluggish performance. Referring to the traditional dress of Scottish clansmen, Sir William also offered some cultural advice by reminding the team that, in Scotland, it was not just the women who wore skirts.
The Ambassador also paid tribute to the success of Afghan cricket over the last few years. He highlighted the positive impact cricket and sport could have on the lives of young Afghans. He also congratulated the team on the positive image of Afghanistan they projected to the rest of the world when they played in international tournaments.
Mr Zahir Aghbar, Head of the Afghanistan's National Olympic Committee, and Mr Shazada Masod, of the Afghan Cricket Board, also spoke at the event. They spoke of the difficulties Afghanistan has faced in building up national sport after thirty years of war and their hopes for the future.
Mr Masod also said that he was greatly looking forward to the games against Scotland. This was not to flatter Sir William, it was, he said, because the Afghan team had a good track record of defeating them. This includes one game last year when they posted their highest ever One Day International team score of 295 for eight.
It should be an interesting summer.
Published 15 June 2010