Crew of HMS Gloucester remember her WWII loss
Sailors past and present of Royal Navy warships bearing the name HMS Gloucester attended a memorial service last week to remember the loss of the ninth Gloucester with 722 men in May 1941.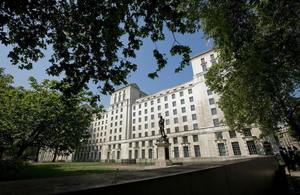 Between August 1940 and May 1941 the ninth Gloucester was involved in many actions and her battle honours bear witness to the achievements of the ship and explain the nickname, 'The Fighting G'.
In less than a year's service in the Mediterranean, HMS Gloucester had won five battle honours and lost over 700 men, including two Commanding Officers.
She was finally sunk in May 1941 when the Royal Navy prevented German forces effecting a sea-borne landing on the island of Crete.
The mission exacted a heavy toll and German dive-bombers destroyed both the Gloucester and the new cruiser Fiji on the same day, 22 May 1941.
The Commander-in-Chief at the time, Admiral Sir Andrew Cunningham, observed:
Thus went the gallant Gloucester. She had endured all things, and no ship had worked harder or had had more risky tasks. She had been hit by bombs more times than any other vessel, and had always come up smiling.
Survivors of the sinking of the ninth HMS Gloucester meet up every year at Plymouth Hoe and this year a party of 12 from the current warship attended to pay their respects.
Headed up by Commander David George, the group included one of the youngest sailors on board, Able Seaman Cameron McDonnell, aged 20, and both laid a wreath alongside those from family members of those who died.
AB McDonnell said:
It got very emotional, it was a real honour for me. It's incredible thinking that I'm the same age as they were then.
One of only three survivors left is 90-year-old Len Bowley of Broadstairs in Kent who served as a signalman on HMS Gloucester.
As well as being just one of 85 crew who survived the sinking, Len also escaped from prisoner-of-war camps in Germany and Poland an astonishing three times.
Not one to be easily deterred, he said:
I'm keen to rejoin the Navy if I can pass the new fitness test!
Cdr George presented Len with a framed print of the current ship signed by members of the ship's company. He said:
Len says how proud he is to meet us, but it is absolutely the other way round.
Lieutenant Tom Rowley, the current HMS Gloucester's Gunnery Officer, said:
Humbling is the word that everyone is using. It was amazing to realise that the ship is still held in such deep affection by so many. 'The Fighting G' name definitely lives on.
HMS Gloucester got 'The Fighting G' nickname after earning five battle honours in less than a year at the outbreak of the Second World War.
Published 17 May 2010