News story
Creating a modern workplace
Government proposes radical reforms for parental leave and flexible working.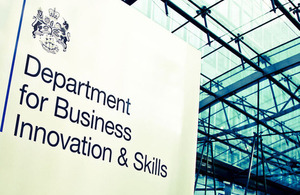 The Government today launched a consultation on plans to introduce a new system of flexible parental leave from 2015 as part of its plans to create a modern workplace for the modern economy.
Under the proposals, once the early weeks of maternity and paternity leave have ended, parents will be able to share the overall leave allowance between them.
Unlike the current system this leave could be taken in a number of different blocks and both parents could take leave at the same time.
What is being proposed?
Flexible Parental Leave
18 weeks maternity leave and pay - in one continuous block around birth.
Four weeks of parental leave and pay exclusive to each parent to be taken in the first year.
30 weeks of additional parental leave available to either parent - of which 17 weeks would be paid and can be broken in blocks between parents.
Flexible Working
Extending the right to request for all workers who have been with their employer for 26 weeks.
The Government will consider publishing a statutory Code of Practice for businesses. It will propose that employers should be allowed to take into account employees individual circumstances when considering conflicting requests.
There are no plans to alter the current 8 business reasons for a business to turn down a request.
The Government recognises that legislation is not the only answer to promoting flexible working practices. Non-legislative measures are being developed to promote flexible working opportunities both for those with a job and for those looking for one.
**Equal Pay **
Employment Tribunals that have found an employer to have discriminated on gender in relation to pay, will order the employer to conduct a pay audit and publish their results (except in some circumstances, such as where an audit has already been conducted).
Business Secretary Vince Cable said:
"Our proposals will encourage greater choice by giving employees and their employers the flexibility to find arrangements to suit them both.
"New parents should be able to choose their childcare arrangements for themselves, rather than being dictated to by rigid Government regulation as is currently the case. And employers should be encouraged to come to agreement with employees on how work and family responsibilities can be met simultaneously.
"These measures are fairer for fathers and maintain the existing entitlements for mothers - but crucially give parents much greater choice over how to balance their work and family commitments.
"Of course I'm mindful of the need to minimise the costs, bureaucracy and complexities on businesses. This has been at the forefront of my mind throughout the development of our proposals. So we will ensure that businesses will still be able to take into account their needs when agreeing how leave can be taken. But I'm also confident that we have a good case to make on the wider benefits to business - not least from a motivated and flexible workforce and we will be making this case to employers over the next few years before these changes are introduced."
Links
Published 16 May 2011