Crackdown on rogue bailiffs
Bailiffs who aggressively pursue debts will come under fresh scrutiny through plans announced by ministers to tackle intimidating and inappropriate behaviour.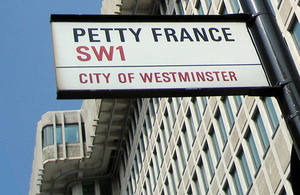 Ministers announce that they will be launching a call for evidence after concerns are raised that some bailiffs are aggressively pursuing debts

Review of government reforms highlights the positive impact of changes but reveals lingering concerns over aggressive behaviour by minority of bailiffs.
The Government is to launch a call for evidence following concerns that a minority of bailiffs are still acting aggressively when collecting money from debtors – particularly from vulnerable people.
The call for evidence, which will be launched shortly, will look to those directly involved to share their experiences to help stop this in its tracks.
Justice Minister Lucy Frazer said:
The majority of bailiffs act professionally and within the rules, but we have been told by those working on the front line that this may not always be the case.

Aggressive tactics will not be tolerated, and through our call for evidence we will identify where the problems are and, if necessary, take action to ensure all bailiffs operate professionally and with proper respect and sensitivity.
In 2014, the government brought in new laws to protect the public from aggressive enforcement agents, while at the same time making sure that debts could still be collected fairly.
The first review of those reforms is published today (2 April), demonstrating positive progress since our changes. This includes better awareness around debtor rights and how to complain, more clarity for debtors about the fees that can be charged, the processes that should be followed, and where to go for advice.
It also found the overall effectiveness of proper enforcement has improved, with a greater proportion of debts now being successfully enforced.
Read the 'One year review of enforcement agent reforms'.
However, following concerns raised by the advice sector, the call for evidence which will be launched shortly seeks to address those minority of bailiffs who continue to flout the rules and aggressively pressure vulnerable people.
Notes to editors
Debts which enforcement agents (formerly known as bailiffs) enforce include council tax arrears and unpaid debts owed to individuals and businesses.
In 2014 the Government introduced reforms to strengthen protection from rogue enforcement agents, while at the same time making sure that debts could still be collected fairly.
The reforms centred on the implementation of Part 3 and Schedule 12 of the Tribunals, Courts and Enforcement Act 2007. The reforms provided legal protection by introducing a comprehensive code governing, amongst other things:
when and how enforcement agents can enter somebody's premises

the safeguards to prevent the use of force against debtors

what goods they can and cannot seize and, if necessary, sell

what fees they can charge
The reforms also stopped enforcement agents entering homes when only children are present, and introduced mandatory training and a new certification process for enforcement agents.
Ministers pledged to review the impact of the reforms, and the first review is published today.
The review started in early 2015 and involved analysing a variety of data, and gathering views from key stakeholders including creditors, the advice sector, other government agencies and enforcement agents themselves.
For further information please call the Press Office 0203 334 3536.
Published 2 April 2018