Crackdown on fly-tipping continues with new grants for councils
£775,000 to be spent on schemes across England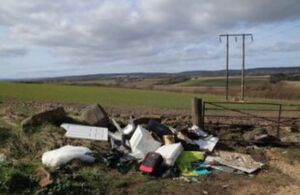 Grants totalling £775,000 will help councils roll out a range of projects to crack down on fly-tipping, Environment Minister Rebecca Pow announced today (Saturday 8 April).
Twenty-one local authorities will benefit from the grants, with schemes such as roadside CCTV and social media campaigns in Plymouth and targeted surveillance at hotspot areas in Pendle. Other projects will include:
CCTV – portable CCTV cameras to patrol and capture footage across Northumberland
Barriers – anti-climb fencing to protect neighbourhood areas in Hyndburn, including community orchards and wildflower meadows
Better waste infrastructure – larger recycling bins in better locations in Mansfield to make sure the public have access to correct disposal approach
Councils will have six months to roll out their initiatives, before sharing how this worked in practice and helping other councils to develop similar schemes.
The new grants announced today will build on the successes of the first round of projects, which provided £450,000 to 11 councils last year.
The projects funded in the first round included building new community gardens in fly-tipping hotspots in Thanet and CCTV with automatic number-plate recognition in Buckinghamshire.
In Durham, the County Council introduced educational bin stickers, permanent signage and installed CCTV onto existing lighting columns. Thanks to these efforts, fly-tipping was cut by over 60 per cent.
Following the success of these initiatives, Defra has almost doubled the amount of funding available for councils this year – £775,000 – for projects for the second round.
Environment Minister Rebecca Pow said:
Fly-tipping is a cynical crime which blights communities and the environment.

Our first round of grants over the last year were a big success – which is why we are expanding this scheme to help more local authorities around the country take the fight to waste criminals.
Belinda Snow, Neighbourhood Warden Manager for Durham County Council, said:
We are grateful that the funding became available from Defra, and the council was awarded £50,000 to tackle fly-tipping at known hotspots with the use of CCTV, signage and educational bin stickers.

The funding enabled us to invest in our communities, resulting in cleaner streets and an overall positive response from residents. We monitored the intervention areas for three months after installation of CCTV and signage in comparison to the data three months before and we could see a 68.4% total reduction in fly tipping incidents.

The use of CCTV has also increased our ability to carry out enforcement action. We have had one successful prosecution at one hotspot location and we have issued a fixed penalty notice at another.
This second grant scheme complements wider action we are taking to tackle fly-tipping and waste crime. We have consulted on reforming the waste carrier, broker, dealer regime, introducing mandatory digital waste tracking and preventing councils from charging for the disposal of DIY waste at local tips.
We are also developing a fly-tipping toolkit with National Fly-Tipping Prevention Group to help spread best practice among local authorities on tackling the issue.
The Prime Minister pledged earlier this year to clamp down on perpetrators of anti-social behaviour. We are committed to delivering on this pledge, recently announcing more severe punishments for those who graffiti, litter or fly-tip, with fines of up to £500 and £1,000 as part of the Anti-Social Behaviour Action Plan. The Plan will also introduce the publication of council league tables for fly-tipping, as well as extra 'hotspot' patrols and a trial 'Immediate Justice' scheme to deliver swift and visible punishments.
A full list of recipients is available below.
Spelthorne Borough Council

Northumberland County Council

Cambridge City Council

Hyndburn Borough Council

Derby City Council

Stockton on Tees Borough Council

Waltham Forest

Plymouth City Council

Birmingham City Council

Wyre Borough Council

Herefordshire County Council

Manchester City Council

Calderdale Borough Council

Bristol City Council

Tamworth Borough Council

Leeds City Council

Mansfield District Council

Staffordshire Moorlands District Council

Rotherham Borough Council

Pendle Borough Council

Doncaster Borough Council
Published 8 April 2023