News story
Crackdown on criminals who change their names to avoid detection
The Home Office is clamping down on people who change their identity in order to commit crimes and escape justice.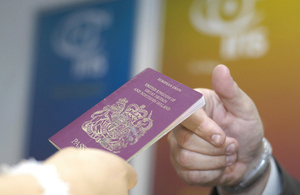 New guidance has been provided to ensure there is a consistent approach to handling change of name applications for official documents, such as the British Passport, Home Office travel documents and biometric residence permits.
Thousands of people legitimately change their names every year, for example following marriage. But there are some who abuse this right for criminal gain – for example to commit fraud or to disguise a previous criminal background – and these new procedures will help to stamp this out.
All applications to change a name must now be supported by evidence to show the acquired name and the linkage to the previous name. Foreign nationals who apply to become British citizens may be registered or naturalised in their married name, however they must first change their name on their passports and travel documents to reflect their married name before submitting an application.
The Minister for Immigration and Security James Brokenshire said:
The security of official documents like the British passport or visas is vital and we take the prevention and detection of fraud very seriously.

Changing your identity to support criminality is a serious offence, whether the motive is to bypass immigration laws, evade detection by police or defraud banks.

Our policy will give us a much stronger platform for effective, systematic action to identify, disrupt and deter the gangs involved in this sort of organised criminality.
Full details of the policy can be found here.
Published 17 February 2015