World news story
CPA UK delegation in Namibia to strengthen parliamentary scrutiny
The CPA UK in partnership with the Namibian Parliament delivers programme aiming to support Namibia for effective parliamentary scrutiny.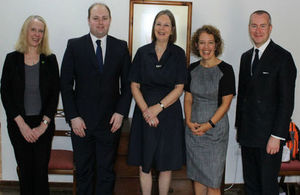 The UK delegation, in Namibia from 13 to 17 February 2017, will deliver a programme for parliamentarians to explore the role of parliaments in conducting oversight of government at the national level. The delegation will also meet a number of stakeholders during the programme.
A key objective of the visit is to introduce and discuss techniques and methods for conducting scrutiny, with the aim of increasing the technical capacity of parliamentarians. As such, the programme will look in detail at oversight through committee management; legislative scrutiny; and, in particular, scrutiny of practices and policies. The UK delegation brings expertise in parliamentary scrutiny from two Members of the House of Commons, David Mackintosh MP and Liz McInnes MP, as well as two Members of the House of Lords, Rt Hon. Baroness Blackstone and Lord Purvis of Tweed. The delegation will draw on their experience of the UK committee system and questions and debates in the Chambers, to discuss effective processes of scrutiny with parliamentarians from both the National Assembly and the National Council. CPA UK is keen to strengthen bilateral relations between the Parliament of Namibia and CPA UK and to encourage further engagement through parliamentary strengthening programmes.
The Commonwealth Parliamentary Association UK Branch (CPA UK) undertakes international parliamentary outreach on behalf of the Houses of Parliament and the wider CPA. With a specific focus on parliamentary diplomacy and parliamentary strengthening activities, CPA UK seeks to foster co-operation and understanding between parliaments, promote good parliamentary practice and advance parliamentary democracy. www.uk-cpa.org
Published 14 February 2017