Countess honours volunteer Army medics for Afghanistan deployment
Volunteer Scottish Army medics who have recently been deployed to Afghanistan treating wounded soldiers and civilians there were honoured by Her Royal Highness The Countess of Wessex yesterday for their important role in the conflict.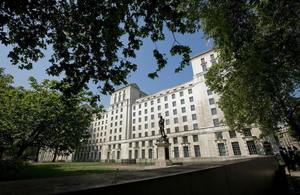 The Countess presented medals to around 60 medics from 205 (Scottish) Field Hospital (Volunteers) and met members of their families at a ceremony at Cameron Barracks in Inverness following the unit's four-month tour of Afghanistan earlier this year.
The medics worked in the field hospital at Camp Bastion in Helmand province between January and April 2010, treating British and American forces as well as Afghan civilians and also captured insurgents.
They dealt with a variety of medical issues from cuts and bruises to more serious injuries such as loss of limbs.
Amongst those honoured yesterday were pharmacist Major Alan Millarvie, aged 35, and his wife, casualty doctor Major Nicola McCullogh, aged 31, both from Aberdeen, who deployed together to Afghanistan.
They met in the Territorial Army and married three years ago. They both work at the Aberdeen Royal Infirmary. Major McCullogh said of her time in Afghanistan:
We would typically see between 30 and 50 patients a day and worked shifts of more than 12 hours, often being called up during the night.
Despite having no time off over the four months she said it was more rewarding than her day job:
The teamwork aspect works much better in the military than the NHS because the environment is so pressurised that you can't do anything other than focus on your work, so it's much more rewarding.
Her husband Major Millarvie added:
It would be more difficult if one of us wasn't deployed, or if we were deployed in different places, but we were together which meant that we could support each other.
Commanding Officer of the volunteers, Colonel David McArthur, said his staff were making life and death decisions in the hardest possible circumstances.
Speaking during the medals presentation ceremony, he told the regiment:
A lot of what the medal parade is about is thanking families, employers, friends and colleagues.
When you recollect your time in Afghanistan you can say with pride 'I served with the 205'.
Your achievements were many and failures thankfully few.
He added that it was physically and mentally exhausting work, but he was satisfied that they had done the best they could.
Colonel McArthur said some of the team were on their fourth or fifth tour and most would be willing to go back.
Published 1 September 2010