Countering the insurgency in Afghanistan
Foreign Secretary William Hague spoke about the dual military and political strands in the strategy to counter the insurgency in Afghanistan, in an interview with Sky News.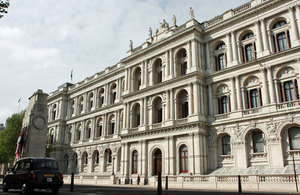 The UK is one of 48 countries providing troops to the UN-mandated NATO-led International Security Assistance Force (ISAF) in Afghanistan. UK forces are in Afghanistan to protect our national security; to prevent Afghan territory from again being used by Al Qaeda as a base from which to plan attacks on the UK and our allies.
Speaking about progress against insurgents in Afghanistan, the Foreign Secretary said:
'I do detect, certainly talking to General Petraeus last week, a real sense of progress in recent months and weeks, of military progress. I think the Taliban are coming under serious pressure.'
The Foreign Secretary also highlighted the importance of Afghan-led efforts around reconciliation with the insurgents. He explained:
'There isn't a military only solution to what is happening in Afghanistan, there needs to be a political process as well, and it may be that coming under intense military pressure encourages some of them to join that process.'
On the political process, the Foreign Secretary emphasised the conditions set out by the Afghan government for reconciliation:
'We've all been clear, including the Afghan Government, that Taliban, members of the Taliban who want to talk are going to have to renounce violence, cut their ties with organisations like al Qaeda, respect the Afghan constitution. And there are Taliban who are being reintegrated on that basis. It's an Afghan led process, the process of reconciliation in Afghanistan, but we and NATO can provide practical help in that.' He added that he could not comment further on any operational details.
The Foreign Secretary also stated that the Prime Minister David Cameron had in June committed over £60 million for additional expenditure on countering improvised explosive devices (IEDs) and operations in Afghanistan remained unaffected by announcements made about the defence budget this week.
Published 21 October 2010