Counter-Proliferation Minister concludes trip to nuclear conference at UN
UK Foreign Office Minister Alistair Burt has returned from his trip to New York, where he attended talks at the Review Conference of the Nuclear Non-Proliferation Treaty (NPT).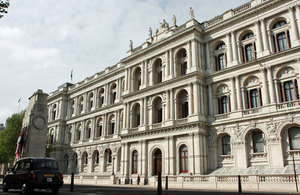 The Minister's visit followed a significant announcement by Foreign Secretary William Hague on the UK's nuclear weapons stockpile and a review of its declaratory policy.
Speaking in Parliament on Wednesday, the Foreign Secretary said:
"We believe that the time is now right to be more open about the weapons we hold. We judge that this will assist in building a climate of trust between nuclear and non-nuclear weapons states and contribute therefore to future efforts to reduce the number of nuclear weapons worldwide."
Read news article Speaking at a press briefing in New York, Foreign Office Minister Alistair Burt said:
"The Foreign Secretary's announcement shows the new Government's great determination to take part in this process to generate the confidence necessary to build a safer and more secure world."
During the visit the Minister met a number of Heads of Delegation to the Review Conference of the NPT, including Ambassador Maged A. Abdelaziz, Egyptian PR to UN in New York, Ambassador Abdul S. Minty, Special Representative for Disarmament & NEPAD at South African Department for International Relations and Co-operation, and Ambassador Bashar Ja'afari, Syrian Permanent Representative to the UN in New York.
He also held discussions with UN Under-Secretary General for Peacekeeping Operations Mr Alain Le Roy, Alison Kelly, Chair of Subsidiary Body II for the Review Conference on Middle East issues and Permanent Representatives from other countries.
The 2010 Review Conference of the Nuclear Non-Proliferation Treaty (NPT) started on 3 May. Over the past month parties to the Treaty have been meeting at the United Nations to discuss the three pillars: disarmament, non-proliferation and peaceful uses of nuclear energy. The UK delegation is working hard for a collective agreement when the Conference concludes on 28 May.
The NPT entered into force in 1970 and is considered the cornerstone of international architecture on nuclear non-proliferation.
Alistair Burt was also the first Minister of the new government to deliver a UK statement at the United Nations Security Council. He gave his statement as part of the debate on "Maintenance of international peace and security".
Published 27 May 2010