Counter Fraud Champions to help crackdown on fraud
Francis Maude has launched a new network of Counter Fraud Champions, based in all major government departments, to counter fraud and error.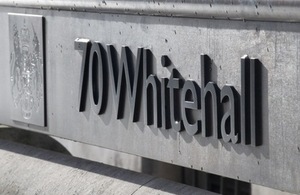 Minister for the Cabinet Office Francis Maude has launched a new network of Counter Fraud Champions, based in all major government departments, to help strengthen the fight against the massive amount of fraud and error in the public sector.
New figures revealed today by the National Fraud Authority show that more than half of the £38 billion fraud in the UK is committed against the public sector.
The new Counter Fraud Champions will lead the fight against fraud and error in their own central government department and in the agencies and other public bodies for which the department has responsibility.
Their priorities will include instilling an anti-fraud culture in their organisation, measuring fraud in their departments and publishing the figures for the first time, making sure new policies and programmes are fraud proofed by undertaking fraud risk assessments.
They will also feed into the work of the Government's Counter Fraud Taskforce which was launched last October, and take forward the Taskforce's recommendations when it completes its work in the Spring.
Speaking at the launch meeting of the Counter Fraud Champions, Francis Maude said their work will build on the work the Government has already begun to take a tougher stance on fraud:
The latest National Fraud Authority estimate shows that 55% of fraud - a massive £21 billion - is committed against the public sector. That's the equivalent of building 800 secondary schools, or employing over 615,000 nurses and it's a problem that we are not going to ignore. Ripping off the taxpayer will not be tolerated.
In addtion, he said:
Contrary to what many people think, fraud and error is not just confined to benefits and revenue. It affects every Government department and impacts on the Government's ability to deliver better public services, while stripping the civil service of vital resources. We can't and won't allow this to happen anymore. Our Counter Fraud Champions will begin work immediately to crack down on fraud across Government and public services.

We know this zero tolerance approach works. The pilots being run by the Counter Fraud Taskforce, which I set up last year, are already making serious savings. HMRC has already saved £1m from stopping single person allowance fraud, where 300 people have been identified as actually living with a partner. If rolled out nationally, this exercise could save £500m - £1bn over the next 18 months.
The Counter Fraud Taskforce will report in May 2011 with recommendations on the Government's new approach to tackling fraud, error and debt. It will drive forward initiatives to prevent and discourage potential acts of fraud and error, rather than just detect it. This has been shown to be the most effective way to reduce fraud, rather than waiting until after a fraud or error occurs, which entails costly and lengthy investigations, prosecutions and debt collection efforts.
The other Taskforce pilots will look at fraud in procurement, grant awards, benefit and taxes and will develop and test counter fraud techniques that can be rolled out across the public sector. Innovative new ways to reduce insider-enabled and electoral fraud are also being taken forward.
Notes to editors
The Counter Fraud Champions will:
Create and maintain an anti-fraud culture through awareness raising campaigns with employees in their Government Department
Measure fraud, error and debt and ensure it is reported
Support a new government fraud alerts system designed to tackle fraud proactively. When one government department identifies fraudulent activity they will submit details of the methods and tactics being used to a central intelligence body - housed at the National Fraud Intelligence Bureau -that will analyse the information, match it to information held on other frauds and issue an 'alert' to all Counter Fraud Champions. This will ensure steps can be taken to protect departments from a similar attack.
Undertake fraud risk assessments in order to identify areas most vulnerable to fraud, and ensure new policies and systems are fraud proofed
Share good practice on combating fraud, including successful work in their own Department as well as the results of pilots being overseen by the Counter Fraud Taskforce
Counter Fraud Champions have been appointed in every government department to take forward the Counter Fraud Taskforce's (CFT) recommendations and commitment to tackle fraud and error across government. These champions will work collaboratively to co-ordinate each government department's efforts to reduce fraud losses.
The recommendations for counter fraud activities to be supported through their Department will be made in a report on the outcome of the current pilots, due in May.
The Counter Fraud Taskforce, which was announced last October, has begun overseeing pilots focussed on identifying specific fraud types. The HMRC pilot has identified £1million savings by working with credit reference agencies to identify people receiving tax credits after wrongly claiming to be living alone. Following analysis of 20,000 claimants, letters were sent to 750 'high risk' people warning them about committing fraud and following this more than half of these have had their tax credits stopped or amended.
For a copy of the National Fraud Authority's Annual Fraud Indicator 2011 visit www.attorneygeneral.gov.uk/nfa
CAB 016-11
Published 27 January 2011