Councils must drive out delays in adoptions
Information on the government's call for councils to cut adoption waiting times.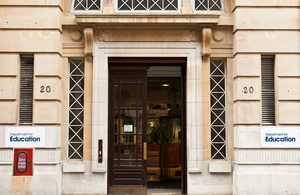 Councils must do more to ensure children awaiting adoption are not deprived of a loving permanent family because of council delays, children's minister Edward Timpson said today.
The call came as the government publishes its second set of adoption scorecards, which show how quickly children were adopted between April 2009 and March 2012. The new scorecards highlight continued and significant differences in the time councils take to place children from care into the families of prospective adopters. Some councils took on average two and a half years to place a child with an adoptive family, a process which takes less than a year and a half in 15 council areas across England.
The scorecards show how each council has done against two thresholds:
Average time between a council receiving court approval to place a child and a council deciding on a match to an adoptive family;
Average time between a child entering care and moving in with an adoptive family.
The new data shows that 37 councils failed to meet both thresholds.
Mr Timpson has written to councils praising those who have processed adoptions swiftly, but calling on poor performers to do better - for the sake of children in care.
Mr Timpson who has two adopted brothers himself, said:
Children awaiting adoption deserve to be placed with loving families more quickly. Instability can cause real damage to a child's chances. It's crucial that we make sure that paperwork and processes do not lead to unnecessary delays.
It is not acceptable that children wait several hundred days longer to be placed with adoptive families in some areas of the country. The slowest councils must do better. I am pleased, however, that some councils have done better by working hard to place more children in care with adoptive parents more swiftly.
This data allows those who want to adopt to see which areas are working well. It also shows where the best practice is. I hope in the long term scorecards will help to improve performance and place children in care with adoptive families, so that they have the chance of realising their full potential.
Martin Narey, government adoption advisor, said:
Despite the early scepticism about the scorecards it has been very clear to me that they have made a positive difference. I think they have demonstrated that the notion that completing adoptions reasonably speedily is in any way likely to threaten the success of an adoption is a myth.
As the scorecards demonstrate the best local authorities combine quality of delivery with speed of delivery. And as a result, children benefit.
John Simmonds, Director of Policy Research and Development at the British Association of Adoption and Fostering, said:
At the heart of the scorecards are children in the most vulnerable of circumstances. 50 years of research have established that children need a secure, stable and loving family as quickly and as early in life as possible.
There are many hurdles to ensuring that this happens where adoption is the plan and this has become the focus of considerable recent activity both in local authorities and the courts to address this. There is clearly some way to go and the publication of new scorecard data must re-double our efforts to overcome these hurdles. At the end of the day it is the child's needs that matters.
The next adoption scorecards will be published next autumn, and thereafter each year, so that best practice can be shared.
The Government is reforming adoption to make the process swifter and place more children in care with loving families. It is also bringing in a two stage process which will allow prospective adopters to learn more about adoption before undergoing the more rigorous assessment.
Notes to editors
The adoption scorecards are available online.

The children in care and adoption performance tables are also available online.

The Action Plan for Adoption cites evidence which asserts that delays in the adoption system cause lasting harm for vulnerable children, and may rob them of their best chance of the love and stability of a new family: Selwyn, J.; Sturgess, W.; Quinton, D. and Baxter, C. (2006) Costs and outcomes of non-infant adoptions, British Association for Adoption and Fostering.
DfE enquiries
Central newsdesk - for journalists 020 7783 8300
General enquiries - for members of the public 0370 000 2288
Published 30 November 2012