Councils get new powers to tear down pointless road signs
New rules mean unnecessary and out-of-date road signs can be removed from our roads from 22 April 2016.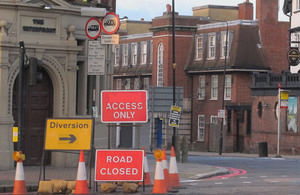 ensuring road signs that are used far longer than needed have a 'remove by' date
making sure traffic signs are visible on unlit roads
stopping temporary message signs from being cluttered with adverts and distracting logos
New powers to tear down pointless road signs that are an eyesore and distract drivers will be given to councils next week (22 April 2016).
The number of signs on our roads, more than doubled from 2.45 million in England in 1993 to an estimated 4.57 million in 2013.
Now simpler rules are being brought in to give town halls the power to take down unnecessary signs and for the first time, signs that say 'new' layout ahead will have 'remove by dates' on the back so they are not needlessly left in place for years.
Transport Secretary Patrick McLoughlin said:
Road signs should only be installed on our roads when they are essential. Our common-sense reforms will help get rid of pointless signs that are an eyesore and distract drivers.

These new rules will also save £30 million in taxpayers' cash by 2020, leaving drivers with just the signs they need to travel safely.
The department has appointed Sir Alan Duncan MP to lead a task force that is looking at removing pointless signs – and this crackdown will pave the way for wider changes.
Too many signs look ugly and stop drivers seeing only essential messages. Cutting the number and size of signs will help reduce unnecessary eyesores for all road users and local residents.
Councils are responsible for signs on their local roads and are expected to save £30 million in running costs by 2020 as a result of the simpler new sign rules.
Fewer signs also need to be lit than before, which will save energy costs and light pollution. Safety signs must still be lit, for example – stop signs or signs for low bridges.
New roundabout and layout signs are sometimes left up for years – and they should be taken down within 3 months. They will now have 'remove by' dates on the back, so residents know when they should go and can hold their local authorities to account. These signs are:
In other reforms being brought in:
the requirement for both a sign and a road marking has been removed in some cases - for example, a mandatory cycle lane or 'permit holders only' parking bay now only need to be shown with a road marking
only 1 sign now needs be installed to show the start of a traffic restriction such as no entry, or no left-turn if it's safe
the requirement to place repeat speed limit signs has been removed - now councils can make their own decisions on how many speed limit signs are needed so that drivers know what limits apply
after successful trials, councils can now install new eye-level cycle traffic lights to make busy junctions easier and safer for cyclists
smaller sizes are now available for signs such as those aimed only at walkers and cyclists to avoid cluttering roads needlessly
News desk enquiries
Media enquiries 020 7944 3021
Out of hours media enquiries 020 7944 4292
Switchboard 0300 330 3000
Published 17 April 2016