Press release
Councils combine for economic growth
Nine councils propose to deliver greater economic growth through a new combined authority.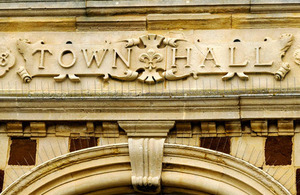 The 9 councils of Barnsley, Doncaster, Rotherham, Sheffield, Bassetlaw, Bolsover, Chesterfield, Derbyshire Dales and North East Derbyshire want to work together through a new combined authority to boost growth in their area.
The Department for Communities and Local Government is today (12 August, 2013) publishing a consultation asking for views on a proposal for government to establish such an authority. The authority would have responsibility for transport, economic development and regeneration, and replace the South Yorkshire Integrated Transport Authority.
The combined authority would allow councils to take decisions jointly across their area with the purpose of driving economic growth. Three further areas are also seeking to establish combined authorities – West Yorkshire, the North East and Merseyside.
The combined authorities approach allows for strategic decision making by a number of authorities alongside their local enterprise partnership. It streamlines the decision-making process in areas like transport, which can overlap various boundaries, and economic growth which is often interlinked with a wider geographic area. With this approach the public, businesses and agencies only have to deal with 1 decision making body rather than many.
Local Government Minister Brandon Lewis said:
By encouraging joint working by local authorities across South Yorkshire and more widely, and having all local authority leaders in a room together at one time, decisions can be made quickly. This boosts economic growth and drives forward business success.

Looking at strategic decision making in this way recognises that an area's economy, its roads and its rail don't stop at a local authority boundary.
A previous combined authority was established in 2011 in Greater Manchester and has led to considerable achievements including:
major refurbishment of Bolton and Rochdale railway stations
a 'Revolving Infrastructure Fund' worth £30 million per year
5,000 to 7,000 new homes built by 2017
a programme of low-carbon reduction measures
an overall saving of £11.7 million per year compared to 2007 to 2008
Further information
The consultation was launched today (12 August) and closes on 7 October 2013.
Published 12 August 2013