Councils and business pick up local enterprise partnerships baton
Local businesses and councils are rallying to the government's call to lead their economies, following the invitation to develop local enterprise partnerships.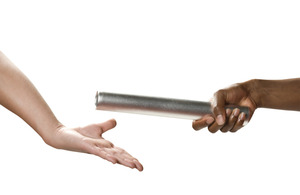 The coalition government is determined to drive growth and rebalance the economy. It has committed to replacing Regional Development Agencies with new local partnerships that will bring together councils and business on an equal footing.
Working together key to driving economic growth
Eric Pickles, the Communities Secretary recently called for local authorities and business leaders to submit proposals for local enterprise partnerships to help rebalance the country's fragile economy - without strangling business with red tape and regional quangos.
He said:
We know that when councils and local business work hand in hand they can drive economic growth together and places can be transformed. Local enterprise partnerships are central to this vision which is why we are asking them what they need.
Locals support a local approach
The government has asked local businesses and councils to develop their proposals ahead of a White Paper on Economic Growth to be published later in the summer. Ministers are determined to have a smooth transition from Regional Development Agencies to local enterprise partnerships. Regional Development Agencies have said they are committed to ensuring as smooth a transition as possible. That it is the work that matters, more than the institutional arrangements.
Angus Campbell, Leader of Dorset County Council said:
The concept of local enterprise partnerships is sound and will enable logical groupings of local authorities to work together for the benefit of their communities.
Caroline Williams, Chief Executive of Norfolk Chamber of Commerce said:
Having a more local focus is great for Norfolk.
Opportunity Peterborough's Director of Economic Development Neil Darwin said:
Peterborough is looking to ensure that it optimises the opportunity that new local enterprise partnerships present. We are keen to work with our neighbours to pursue this agenda. Irrespective of future structures the need to support local economic development remains paramount.
Councillor Paul Watson, Chair of the Association of North East Councils said:
The Association of North East Council and the Northern Business Forum are progressing with proposals to be put to government on what local authority and business leaders consider will be in the best interests of the North East.
Councillor Sean Woodward, Chairman of the Partnership for Urban South Hampshire (PUSH) said:
The Partnership for Urban South Hampshire has a well established strategic framework within which businesses, local authorities, and other partners are already working together on issues of economic concern. Taking on the role of a local enterprise partnership offers a natural development of these arrangements and this invitation from government will allow the partnership to take control of the economic destiny of their local area.
Dermot Finch, Chief Executive of the Centre for Cities think tank, added:
The ball is now in the court of local councils and businesses. They now need to come forward with their own plans for improving transport, housing, planning and enterprise.
Peterborough MP Stewart Jackson said:
Local regeneration projects should be driven by local elected officials working together with businesses.
North West Cambridgeshire MP Shailesh Vara said local enterprise partnerships would always be a better alternative to regional agencies.
He said:
The Regional Development Agencies have always been surplus to requirements, doing work which could be properly dealt with by other agencies. It costs a huge amount of money which we will now be able to save in these tough economic times. The Regional Development Agencies should have been scrapped a long time ago, but it is better late than never.
Published 13 July 2010