News story
Council Tax collection rate improves but councils can deliver more savings
Eric Pickles welcomes the improvement in the Council Tax collection rate.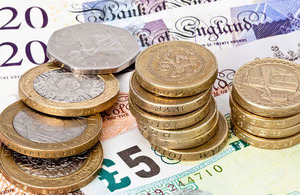 Official statistics released today (26 June 2013) reveal that the collection rates for Council Tax in England have reached an all time high.
Local authorities collected £22.4 billion in Council Tax in 2012 to 2013, representing an increase of £200 million on the previous year. However, as of 31 March 2013, the total cumulative amount of uncollected Council Tax still stood at almost £2.4 billion.
The average Council Tax collection rate in London rose by more than the national average.
In addition, the overall amount of arrears has fallen slightly as a proportion of the amount of Council Tax that should have been collected in the year, when compared with the previous year. From 31 March 2012 to 31 March 2013 it was £689 million in 2011 to 2012 compared to £691 million in 2012 to 2013. These figures dispute recent suggestions that Council Tax arrears have risen.
Council Tax bills have fallen by just under 10% in real-terms under this government which took the unprecedented step to deliver 3 years of Council Tax freeze support for residents. This is in stark contrast in the period between 1997 and 2010 when Council Tax bills more than doubled.
Communities Secretary, Eric Pickles said:
It is important that councils are sympathetic to those in genuine hardship, but every penny of Council Tax that is not collected means a higher Council Tax for the law-abiding taxpayer who does pay on time.

These figures show a welcome improvement in collection rates, but there is still over £2 billion of unrealised income, which councils could use to support frontline service or cut Council Tax bills. These figures show the scope for sensible savings in local government.
Further information
The total amount of collectable Council Tax in England was £22.69 billion in 2011 to 2012 and £22.98 billion in 2012 to 2013.
Council Tax collection rates have risen by 0.1% to 97.4% from 31 March 2012 to 31 March 2013.
Total Council Tax arrears (in respect of the current year) were £689 million in March 2012 and £691 million in March 2013. As a percentage of total amount of be collected, this represents a slight fall in Council Tax arrears (from 3.04% to 3.01%).
The official statistics: Collection rates for Council Tax and non-domestic rates in England 2012 to 2013 were published today.
The department changed the rules so hard working council residents can choose to pay their annual bills online or spread their payments over 12 months instead of 10. Our measures give taxpayers more room for managing their household budgets. The government has also worked with councils to freeze Council Tax with bills having fallen by 10% in the last 3 years in real terms.
50 ways to save: examples of sensible savings in local government is available for download.
Published 26 June 2013