Press release
Council Tax bills waived until flood victims return home
Government extends Council Tax discount to help those hardest hit by the UK floods.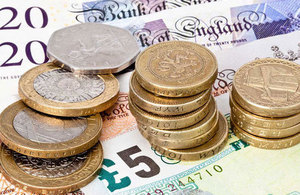 Today (11 April 2014) Local Government Minister Brandon Lewis announced that the government will extend the Council Tax discount to all flood victims for as long as they are unable to return to their homes.
The recent winter was the wettest on record and although flood defences successfully helped protect over 1.3 million properties 7,700 homes were flooded.
Most families are now back in their homes, as ground water continues to recede slowly, but the clean up can be slow going and a little over 1,000 households are still hoping to move back in.
In February the government said it would fund a 3-month Council Tax discount for every affected household. Today's announcement extends that - meaning government will now waive the tax for as long as people are unable to return to their homes. This is expected to amount to £6 million of support, or £2 million more than was originally set aside.
Brandon Lewis said:
Thankfully many people have been able to return to their homes, but for some the process of homes drying out is going to take a little longer still. I don't want to see any of those families having to worry about paying their Council Tax while they focus on getting their lives back in order.

So from today the government will extend its discount and no family will pay a single penny in Council Tax until they are safely back in the comfort of their own home.
Statistics from the Pitt Review of the 2007 floods show that 50% of households returned to their properties within 3 months and 82% within 6 months.
Already nearly 1,400 flood affected households have been offered Council Tax discounts. To date 48 local authorities have reported that they have already offered affected residents the discounts with a further 63 actively planning to do so.
Office address and general enquiries
2 Marsham Street
London
SW1P 4DF
Contact form http://forms.communiti...
General enquiries: please use this number if you are a member of the public 030 3444 0000
Published 11 April 2014