Council crackdown on rogue traders operating in the black economy
Rogue traders who flout multiple regulations have faced a crackdown from fraud teams.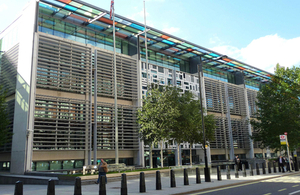 Rogue traders who flout multiple regulations have faced a crackdown from fraud teams who are blitzing businesses at high risk of operating in the black economy.
Five councils across the country have joined forces with the Police, Food Standards Agency and the Department for Communities and Local Government to target those breaking multiple rules – from food standards breaches to illegal workers.
New research published today, shows this 'joint approach' in areas across the country - including Cheshire, Cornwall, Ealing, Hertfordshire and Manchester – has resulted in fewer rogue businesses being able to slip through the net.
Communities Minister Marcus Jones:
Rogue businesses cut corners and provide a shoddy service to their customers and staff. What's more they are costing councils and agencies taxpayers' hard-earned cash through inspections and violations.

By sharing data, joint visits and acting as each other's 'eyes and ears' – fewer rogue businesses can slip through the net.

I'd encourage all councils to see what more they could do to ensure their legitimate businesses can compete on a level playing field.
Sharing helps snaring problem businesses
Launched in October 2014 the 'Better business compliance partnership' programme saw 5 local authorities working with others to blitz rogue traders:
Cheshire West and Chester: focusing on food businesses and off-licenses and with a large number of enforcement visits. They also trained staff on how to spot tell-tale signs that businesses were flouting the law.

Cornwall: cross-checked data from across partner agencies to identify businesses at risk of operating in the black economy and trained staff to encourage tip-offs from other agencies.

Ealing: targeted problem food businesses and cross-checked data using the latest 'science tool' technology, to identify businesses breaking the rules.

Hertfordshire: developed a tool to record and share data which would send warning signs to other agencies and trained taxi-licensing officers to identify fudged, fraudulent documents.
Manchester and Salford: held a burst of joint activity, breaking bogus businesses who were peddling everything from the counterfeit goods to fraud services and money laundering.
The local areas developed different approaches based on local needs but across each one evaluation found that joint working helped target resources more effectively to crackdown on businesses breaking the law.
Government is now focused on sharing these findings to help other local authorities learn from this good practice.
A second phase of the programme will now test the effectiveness of data science in helping to tackle a range of non-compliance by business in Ealing.
Further information
The qualitative evaluation of the better business compliance partnership programme is available to download
Office address and general enquiries
2 Marsham Street
London
SW1P 4DF
Contact form https://forms.communit...
General enquiries: please use this number if you are a member of the public 030 3444 0000
If your enquiry is related to COVID-19 please check our guidance page first before you contact us - https://www.gov.uk/guidance/coronavirus-covid-19-guidance-for-local-government.

If you still need to contact us please use the contact form above to get in touch, because of coronavirus (COVID-19). If you send it by post it will not receive a reply within normal timescale.
Published 12 April 2016