Cornwall Council honours naval helicopter crews for work in Helmand
Personnel from 854 and 857 Naval Air Squadrons have been serving at Camp Bastion in Afghanistan since June 2009 where they have been providing…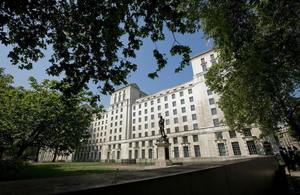 Personnel from 854 and 857 Naval Air Squadrons have been serving at Camp Bastion in Afghanistan since June 2009 where they have been providing support to the coalition forces in Afghanistan.
This includes gathering vital intelligence and providing surveillance of activities and movements on the ground over large areas of the country.
Welcoming around 70 members of 854 Squadron to the reception in Truro, Council Chairman, Mrs Pat Harvey, said:
I am delighted to have the opportunity to welcome such brave and dedicated personnel from RNAS Culdrose to County Hall.

Everyone in Cornwall is very proud of the role you are playing in helping to protect both the local people and coalition troops in Afghanistan and I am extremely honoured to be able to host this reception on behalf of the council.
854 Squadron, which comprises three aircraft, 26 engineers and 14 aircrew and support staff, has flown throughout the day and night in Afghanistan in all kinds of weather, including dust devils hundreds of feet high and sandstorms.
Members of 854 Squadron came back to the UK in July 2010. They are now undertaking training prior to their return to Afghanistan in December 2010 when they will take over from 857 Squadron who are currently serving in temperatures of up to 45 degrees Celsius.
As well as giving 'eyes to the fleet' through their maritime surveillance role, the squadron has also been directly involved in a number of headline operations, including PANCHAI PALANG (or PANTHER'S CLAW) and the recent Operation MOSHTARAK.
Working closely with the Army, members of the squadron provided the land forces with information on what was happening around them, enabling them to tailor their resources.
They also tracked the movements of enemy forces and then intercepted them using helicopter-ferried personnel, leading to finds of drugs, weapons and Taliban personnel.
Published 19 October 2010