Corgi launches die-cast RAF Sea King
Toymaker Corgi has launched a miniature RAF Sea King Search and Rescue helicopter that looks set to be a hit with aviation fans.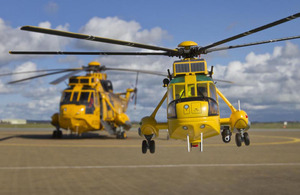 The highly detailed 1:72 scale die-cast model of a Sea King HAR3 is a special edition in Corgi's Aviation Archive series. Featuring airframe XZ 596, it is a replica of the Search and Rescue helicopters flown by 'C' Flight of 22 Squadron and 203 (Reserve) Squadron (Operational Conversion Unit), and features the 2011 RAF Search and Rescue Force's 70th anniversary (SAR70) livery.
As part of the SAR70 commemoration plan, the SAR Force ran a competition to design an aircraft decal which the whole RAF Sea King fleet would carry during its 70th anniversary year. Flight Sergeant Andy Carnall was the winner, and the designs were sent to Richard Dixon at Air Command Graphics to supply the spandex aircraft decals.
These were supplied to the AgustaWestland engineers at the six RAF SAR Flight locations with engineering instructions to attach them to the aircraft for the duration of commemoration year.
Explaining his role in the design of the model's livery, Flight Sergeant Carnall said that during the SAR Force's 70th year he spotted Corgi were planning to release a die-cast model of XZ 596 but noted some glaring discrepancies with the badges on the web pre-order mock-up model:
I immediately contacted the Corgi designers and supplied them with images of the actual aircraft showing the position and relative sizes of squadron markings to ensure the details were absolutely correct," said Flight Sergeant Carnall.

I also sent the SAR70 decals and suggested to Corgi that this would give the model a potentially limited edition profile, as the spandex decals would only be on the RAF SAR Fleet for just 12 months.
This was addressed by Corgi and an extremely accurate reproduction of Sea King HAR3 XZ 596 in the SAR70 livery was achieved; even to the extent that the SAR70 badge on the door of XZ 596 was not actually placed directly under the door window as planned, but placed to the left in error.
Aimed at the adult collector, the model is unsuitable for children under the age of 14 and retails at £54.99.
The aircraft itself has since moved on from C Flight, 22 Squadron, at RAF Valley and is currently stationed at RAF Boulmer with A Flight, 202 Squadron.
The RAF works with Airfix and Corgi on a range of models including the RAF Red Arrows, and this year will feature the Tucano display team in their Jubilee colours. The RAF is always keen to ensure authenticity and accuracy on products which helps raise public awareness.
Published 21 September 2012