News story
Core Cities call on government to maximise the potential of high speed rail
Leaders from the UK's 10 largest cities call for the fast delivery of HS2.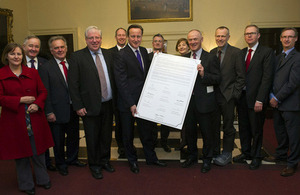 This morning (21 November 2013), leaders from the UK's 10 largest cities outside of London presented a signed declaration to the Prime Minister calling for the fast delivery of HS2 and a commitment to bring about the creation of a full high speed network.
The Core Cities leaders met with the Prime Minister and Transport Secretary Patrick McLoughlin at Downing Street. They called for the whole of Parliament to unite and press on with the hybrid Bill for Phase One and deliver plans for Phase Two as quickly as possible.
They are clear that upgrades are not enough and that HS2 is the only solution. A recent assessment of the alternatives to HS2 found that the upgrades required could lead to up to 14 years of weekend closures and deliver no where near the capacity of HS2.
The Core Cities believe that a national high-speed rail network has the potential to create 'high speed cities' and is the only option to reshape and rebuild the national economy. The HS2 Growth Taskforce, led by Commercial Secretary Lord Deighton, is working hard with a relentless focus on growth looking at how to maximise the potential from HS2. It will publish its final report and recommendations to government early next year.
Published 21 November 2013