Copyright licence deal to save schools time and money
Information about a new deal on the use of copyrighted material in schools.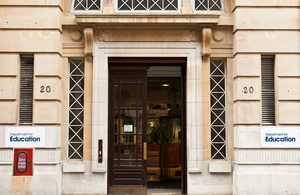 Schools are set to benefit after the Copyright Licensing Agency (CLA) and the Department for Education sign a 3-year deal on the copyright licensing for schools.
From April 2013, the Department will manage a national CLA Schools Licence for all state maintained schools in England. Schools need this licence in order to copy materials from books, magazines and websites legally. In addition, the deal will also include a new licence from the Music Publishers Association to cover copying of items such as printed sheet music.
The move could save schools up to £6 million in total that can instead be spent on frontline school services.
Schools Minister David Laws said:
We are committed to reducing costs and red tape for schools. This new licence will free up schools' time and help make sure they can spend more money on the frontline instead of back office administrative costs.
This announcement follows the Government's recommendations in the Hargreaves Review to simplify the licensing process for copyright users in the digital age.
Jo Warner-Howard, CLA's Head of Education, said:
Schools were telling us that they wanted us to make licensing simpler and easier and we listened to them. The fact that CLA and DfE were able to work together to achieve this, shows it is possible to find positive solutions to difficult problems in challenging times.
Currently the administration of the CLA schools licence is managed by local authorities. With an increasing number of schools converting to academy status with their own policy and budget, this has become problematic for those involved. New academies in particular have been faced with the cost and administration of managing licences and other services previously dealt with by the local authorities.
The change will relieve local authorities and academies of the responsibility for administration of licensing. It will save around £1.6 million in financial year 2013 to 14, but as more schools become academies the saving are expected to reach around £6 million. CLA will continue to have direct contact with the schools sector to increase awareness and understanding about the use of copyright material.
ENDS
This press notice relates to England only
Notes for editors
Schools can find out more about the new agreement on the CLA Schools website. It applies to all state maintained schools - local authority maintained schools, academies, and other types of schools such as Pupil Referral Units and special schools.

The Hargreaves Review was an independent review commissioned by the Prime Minister in November 2010 to look at how the Intellectual Property framework supports growth and innovation. Chaired by Professor Ian Hargreaves and assisted by a panel of experts, the review reported to government in May 2011 making recommendations for government. This included a recommendation to simplify the licensing process for copyright users in the digital age. Further details about the review can be found on the Independent Review of Intellectual Property and Growth's website.

About the CLA Schools Licence: The Copyright Licensing Agency Ltd ("CLA") as agent for the Authors' Licensing and Collecting Society Ltd, the Publishers Licensing Society Ltd, the Design and Artists Copyright Society Ltd and various reproduction rights organisations overseas is empowered to grant to schools a licence ("the CLA Schools Licence") for the copying and re-use of extracts from the following material in which copyright subsists:
printed books, journals, magazines and other periodicals;
paid-for digital material; and
free-to-view websites.
CLA will grant the CLA Schools Licence to state-maintained schools and resource centres within England on whose behalf the Department for Education will pay the Licence Fee.
On the same basis the CLA, as agent for Printed Music Licensing Ltd., will grant schools a licence (the Schools' Printed Music Licence) for the copying and re-use of extracts from and the making of arrangements of Printed Music Publications in which copyright subsists.
DfE enquiries
Central newsdesk - for journalists 020 7783 8300
General enquiries - for members of the public 0370 000 2288
Published 21 December 2012