Press release
Copyright deals will cut red tape and save schools £6.5 million
The government announces copyright licence deals for schools.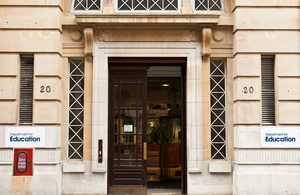 Schools across England will save more than £6.5 million after the government struck deals with licensing companies for shared rights to use films, newspapers and television shows in classrooms.
The licences previously had to be bought individually by schools and local authorities, often resulting in expensive and time-consuming negotiations.
Now the Department for Education has reached agreements so that from next month all state schools in England will be automatically covered for these licences, potentially saving more than £6.5 million.
The deals have been struck with:
Schools Minister David Laws said:
We are committed to reducing costs and unnecessary red tape for schools. These new licences will allow schools to focus their resources further on providing an excellent education for young people.
Jo Warner-Howard, head of education at the Copyright Licensing Agency, said:
Schools were telling us that they wanted us to make licensing simpler and easier and we listened to them. The change will relieve local authorities and academies of the responsibility for administration of licensing.
The Department for Education is committed to reducing the administrative burden on teachers to free them up to teach. The department has:
cut the volume of unnecessary guidance issued to schools by 75%, equating to the removal of more than 21,000 website pages
scrapped the burdensome self-evaluation forms for school inspections
simplified complex financial school budget restrictions
A streamlined inspection framework has also been introduced. Neither the department nor Ofsted now expect teachers to produce written lesson plans for every lesson.
This announcement follows the government's recommendations in the Hargreaves Review to simplify the licensing process for copyright users in the digital age.
Notes to editors
The licences apply to all state schools, including local authority maintained schools, academies, and other types of schools such as pupil referral units (PRUs) and special schools.

The savings of moving to paying for the ERA, Filmbank and MPLC licenses centrally is estimated by the Department for Education to be £6.73 million in the 2014 to 2015 financial year. These savings are made up of the discounts negotiated on the cost of the licenses themselves and the savings in administrative costs of local authorities and schools, who previously negotiated deals themselves.

The central licences that have been in existence since April 2013 are the Copyright Licensing Agency licence, which gives schools the right to photocopy books, magazines and journals, make digital copies by scanning or re-typing for distribution to pupils, parents, teachers or governors, and make copies of content from digital material including CD ROMs, electronic workbooks, online journals and included websites; and the School Printed Music Licence, which covers the copying of a school's sheet music for curricular and extra-curricular school activities, making arrangements of musical works and distributing licensed copies to school members.

The Hargreaves Review was an independent review commissioned by the Prime Minister in November 2010 to look at how the intellectual property framework supports growth and innovation. Chaired by Professor Ian Hargreaves and assisted by a panel of experts, the review reported to government in May 2011 making recommendations for government. This included a recommendation to simplify the licensing process for copyright users in the digital age. Further details about the review can be found on the Independent Review of Intellectual Property and Growth's website.
DfE enquiries
Central newsdesk 020 7783 8300
General enquiries 0370 000 2288
Published 26 March 2014