Contract awarded for new DIO Infrastructure Management Solution
The Defence Infrastructure Organisation (DIO), the MOD's property and services provider, has awarded a contract to IBM (NYSE: IBM) for the implementation and support of its new information management system.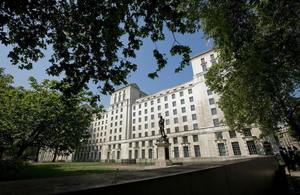 Awarding the new DIO Infrastructure Management Solution (IMS) contract marks a significant milestone for the organisation as it continues to transform the way it works under the Defence Infrastructure Transformation Programme (DITP).
DIO's future technology solution will replace outdated legacy IT systems and help staff work more efficiently and effectively through automated processes. It will also help to further improve management of the Defence estate by providing staff with a system that is easier to use and delivers better information.
Andrew Manley, DIO Chief Executive, said:
The award of this contract for our new Infrastructure Management Solution represents a major milestone in transforming DIO. It will allow us to work more efficiently and effectively in providing a Defence estate which meets military needs and supports our Armed Forces.

This continues our work in creating a world-class infrastructure delivery organisation and places DIO at the leading edge of the Transformation process happening right now across the MOD.

The new IMS is integral to the new Enhanced Operating Model (EOM) for DIO. The EOM is a balanced solution, based on the inter-relationship between DIO's business processes, the IMS and the new organisational structure we are staffing up over the coming months.
Under the terms of the contract, IBM will provide an integrated property management solution comprising software and consultancy services. The solution, in the form of an integrated workplace management system, will give the DIO central visibility of all of its key data, along with the analytical capability to reveal the performance of its extensive global property holdings.
The solution will also enable processes to be streamlined and rationalised across the organisation and, via links to the systems used by DIO's Next Generation Estates Contractors, will greatly speed-up and improve the flow of information between the organisation and its industrial partners.
Robin Thompson, IBM Global Business Services, added:
Having the right data at the right time is essential for MOD's Defence Infrastructure Organisation. To this end the solution, based on IBM TRIRIGA, will help provide a new level of intelligence about physical infrastructure performance that will enable the DIO to make the timely and critical decisions about their assets that are essential to the success of their operations.
The technology will be launched in a number of capability releases through to April 2014 which are based on analysis of future business needs, the current DIO technology landscape and engagement with industry through procurement.
The contract was signed in October 2012.
Published 17 October 2012